In scientific literature, alcohol has been recognized as a depressant, It may give your a temporary high that makes you feel good but in the long run it can have some really harmful consequences. The side effects depend on kind of alcohol you take regularly and also the amount. While it remains an undisputed fact that drinking excess of alcohol is bad for your health, a new study suggests that even half a pint can prove hazardous in a long run increasing their risk of heart disease by prematurely ageing their arteries.The fact remains that too much alcohol can harm your
health
in more than one way but how much is too much? For healthy men, drinking more than 4 drinks on any day and for healthy
women
having more than three fall under the category of 'heavy drinking'. According to a new study, former male drinkers were also at risk as compared to moderate drinkers who were in early old age.Our liver's main job is to breakdown harmful substances and excrete them from our body.
Drinking
too much alcohol puts excessive load on your liver which can cause alcohol hepatitis or even cause inflammation. A new study adds to the list of harmful effects of heaving drinking especially for men. According to latest research, men who drink a lot may be at higher risk of developing arterial stiffness, premature ageing of arteries which in turn, increases their risk for heart disease. Not just that, drinking regularly even in small quantities can hurt your heart by raising your blood pressure or changing your heart rhythm. These new findings show that drinking too much can affect the elasticity of the arterial walls, causing arterial stiffness which can interfere with flow of blood to the heart. The study was published in the Journal of the American Heart Association.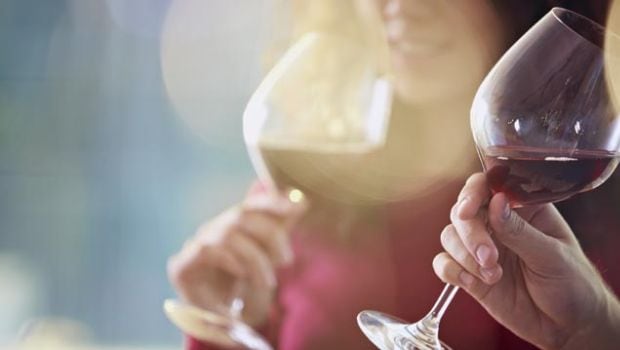 It has been found that excessive alcohol intake may increase high-density lipoprotein cholesterol levels and decrease platelet stickiness. According to lead author Darragh O'Neill, epidemiological researcher at the University College London, "Conversely, heavier alcohol intake may activate certain enzymes that would lead to collagen accumulation, which could, in turn, exacerbate the rate of arterial stiffening."Former male drinkers were also at risk as compared to moderate drinkers who were in early old age.
Surprisingly, the same results were not observed in women. To reach this conclusion, the team looked at alcohol drinking habits of 3,869 participants out of which 73 per cent were males aged between 30 and 50.The study data about the alcohol
consumption
was compared with carotid-femoral pulse wave artery velocity (PWV)
measurements
, or pulse waves between the main arteries found in the neck and thigh. It was seen that he greater the velocity, the stiffer was the artery. Alcohol intake was measured periodically across 25 years and the researchers subsequently looked at how those long-term intake patterns were associated with pulse wave velocity and its progression over a four-to-five-year interval.The study concluded that men who drink just half a pint of beer a week over several years may increase their risk of heart disease by prematurely ageing their arteries. Researchers further added that there are more reasons to worry about heavy alcohol intake as it can increase the risk of alcohol dependency,
high blood pressure
, obesity and even cancer. A previous study conducted by scientists from Harvard School of Public Health, showed that binge drinking raises the risk of a heart attack by an alarming 70%. While some health experts regard wine as healthy due to its antioxidant properties, it's best to drink any kind of alcohol in moderation to safeguard yourself.
(Top 10 Natural Foods to Control High Blood Pressure)
With inputs from IANS