Heart disease is a condition that plagues millions of people worldwide. February, also declared 'American Heart Month' by the Centers for Disease Control and Prevention (CDC), is the time when the emphasis is on cardiovascular health. High blood pressure, high cholesterol and smoking are some of the key factors that put people at risk for heart disease. Luckily, if we maintain a healthy body weight and choose to eat a healthy diet, the risk of heart disease can be drastically reduced. Fruits and vegetables may be quite helpful in increasing the daily fibre intake and improving cardiovascular health. The latest research suggests that consuming strawberries may have a positive impact on heart health.


Britt Burton Freeman, a professor at the Illinois Institute of Technology revealed that a diet low in fruit is among the top three risk factors for cardiovascular health. The research was presented at the Berry Health Benefits Symposium (BHBS) in Tampa, Florida. In a trial with 33 obese adults, the study found that daily consumption of strawberries may provide cardio-metabolic benefits. "Accumulating evidence in cardiometabolic health suggests that as little as one cup of strawberries per day may show beneficial effects," said Freeman.


(Also Read: Strawberry For Weight Loss: 5 Ways It Helps You Shed Kilos)
"Our study supports the hypothesis that strawberry consumption can improve cardiometabolic risks," said lead investigator Arpita Basu, associate professor at the University of Nevada, Las Vegas. "Furthermore, we believe this evidence supports the role of strawberries in a 'food as medicine' approach for the prevention of type 2 diabetes and cardiovascular disease in adults," she added.


Apart from cardio-metabolic health, strawberries are also excellent sources of Vitamin C. They also contain antioxidants, are good for regulating blood sugar and are low in calories too. If you are wondering how to eat more strawberries every day, we have some suggestions for you. While you can always bite into a bowl of strawberries raw, here are five more ways to eat more every day.
Here Are 5 Ways To Eat More Strawberries Every Day:
1. Add It To Salads
The humble strawberry can make an excellent addition to various salad recipes, adding a tinge of sweetness with a lot of juice and flavour. Click here for a strawberry salad recipe.


(Also Read: Easy Homemade Strawberry Kulfi Recipe To Welcome The Summers)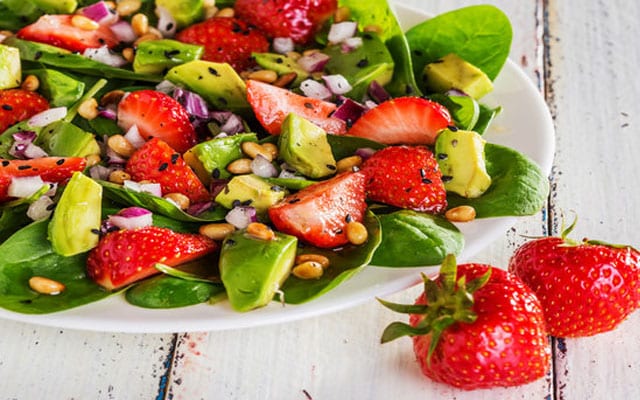 2. Juice It Up
Not just for their health properties, strawberries can add a lot of colour to your juices as well. You can pair it with an apple, banana or any other fruit of choice.
3. Add It To Smoothies
If juices aren't your beverage of choice, you can also make a yummy milkshake or smoothie with it. Mix in carrots and make a wholesome and healthy drink with it! Click here for the full recipe.
4. Make Raita With It
Fruit raita can be a wonderful and low-calorie way of consuming strawberries. This juicy fruit will impart a bright pink hue to your usual raita!
5. Make Sandwiches With It
Strawberries and cream can make for an excellent sandwich filling. Try it and we promise, you'll love every bite of it. Find the full recipe here.
About Aditi AhujaAditi loves talking to and meeting like-minded foodies (especially the kind who like veg momos). Plus points if you get her bad jokes and sitcom references, or if you recommend a new place to eat at.