Beetroot
is no magic ingredient but it does come laced with health benefiting properties that may solve most of your everyday health woes. Beetroot has been touted as an excellent source of iron, it is also known to replenish lost energy and helps rev up metabolism especially after working out. The ruby red vegetable is packed with essential nutrients such as Vitamin A, C, K,
antioxidants
, beta carotene and polyphenols, among others.
Health benefits of beetroot
- Regular consumption of beetroot associated with promoting sharper memory.- It is also deemed beneficial in curing muscle soreness.- Beetroot is an apt post-workout drink as it help in replenishing the loss of energy.- It is also excellent for increasing muscle mass as well as enhancing athletic performance.
- Beetroot is excellent for your blood and helps manage your blood pressure levels.- It gives your skin a nice glow and helps fight digestive issues.- The drink has been lauded for its DOMS beating properties. Delayed Onset Muscle Soreness is a condition wherein the muscles get extremely sore and stiff after a strenuous and highly exerting activity. That's why beetroot juice is great for people who workout extensively.
- It also helps in regulating your blood sugar levels.Want to detox, rev up your stamina and keep your glucose levels in check? Just add a small helping of beetroot juice in your regular diet and reap benefits.(Also Read: Beetroot Juice -
The Ultimate Post and Pre-Workout Drink
)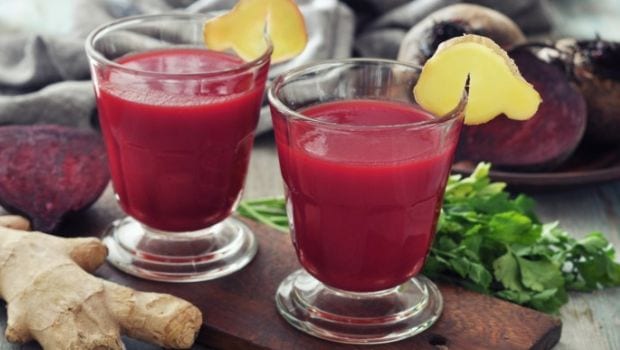 Experts at the University of Guelph in Canada have also validated the goodness of beetroot juice. According to the researchers, beetroot juice when consumed regularly in moderate amount can help maintain blood pressure and ward off risk of developing heart ailments. This is because of the presence of nitrates found in beetroot that dilate blood vessels to reduce blood pressure levels.
The study was published in the Journal of Physiology and examined a group of 20 adult participants who were given nitrate supplements or a placebo. It was found that muscle synthetic nerve activity was lower when the volunteers drank beetroot juice compared to when they had placebo.
"Surprisingly, no differences in blood pressure were detected at rest or during exercise," the researchers said.
Inputs from IANS