Image via thrivehealthyDeadlifts, high intensity interval training or cross-fit can be mundane when performed in isolation, but when grouped together, they prove to be a challenging combination of strength training and cardio. Top it up with yoga and it gets even better. Yoga is clearly taking over the fitness world lately, but its reach was never really limited. Hollywood legends like Marilyn Monroe are known to have included yoga in their daily routine much before it was popularised as a fitness regime in the West.
The perception of a fit body has evolved over the years, with fitness enthusiasts now moving away from the Arnold Schwarzenegger-type body image. The focus has gradually shifted towards achieving more stamina and core strength for a leaner look than just bulking up. Flexibility plays a significant role too, and this is the reason why experimentation with yoga postures seem to be in full swing. Today's celebrities are moving away from the conventional gyms and adopting interesting workout regimes that combine the best of all worlds. While reigning beauties of Hollywood as well as Bollywood are taking up Pilates and yoga, their male counterparts are also embracing it whole-heartedly.
In a 2001 report published in an American Daily, Reading Eagle, Hugh Jackman accredited Meg Ryan as the one who "turned him on to yoga". The actor delved deeper into the practice while preparing for his role in 'The Fountain' in 2006, wherein he was trained in various yogic postures for nine months. "I am becoming a fanatic. I may end up like sting," he noted.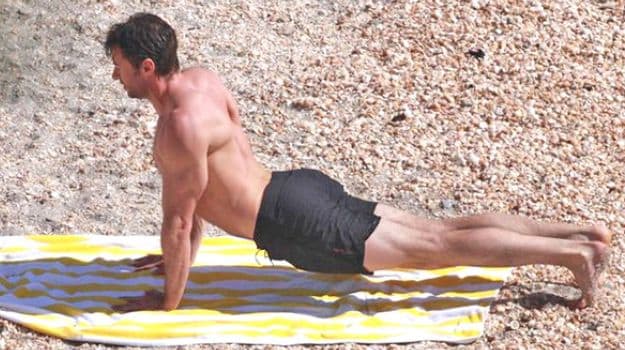 Image via relaxandreleaseSting? Yes, Sting. The renowned artist is known to be one of the staunch practitioners of yoga. Sting was introduced to the world of yoga in his 30s, somewhere around the 1980s. The rockstar has admitted in many interviews that his idea of self-fitness was thwarted and challenged once he began yoga. In the beginning, he couldn't even break into the simplest of poses and now, after so many years, "I can do things with my body that I wouldn't even have thought possible when I was an athletic teenager," as quoted by a lifestyle portal.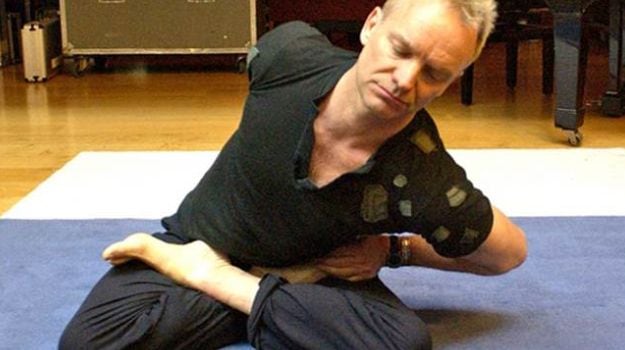 Image via relaxandrelease
Sting and his wife have been practicing yoga for over two decades. Both are huge fans of Ashtanga yoga. They meditate and practice yoga for close to 90 minutes every day.
Oscar winning Matthew McConaughey is another one to join the herd. The 'Interstellar' actor is often seen breaking into yoga poses out in the sun or on golden beaches.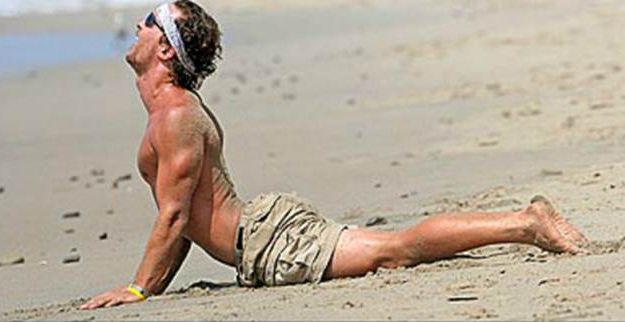 Image via FitnessFrenzieNext on the list is the Maroon 5 lead, Adam Levine. The Grammy winning artist has been quite vocal about his love for yoga and is known to practice it for at least an hour before all his shows. "I'm happy all the time. Seriously, without yoga and working out, I'd be a mess," he was quoted by Men's Fitness, an online portal. In an interview to Women's Health Magazine, Levine explained how he resorted to yoga to cure his flexibility issues. "I'm naturally very tight in my lower back, hips and hamstrings. My first class felt like someone was ripping my body apart," he shared.
The singer also admitted giving up on external weights when he realised the significance of yogic postures using your own body weight against you. "I had been lifting weights for years. After our first yoga session, I vowed never to lift another weight again. Yoga carves you into a different person-and that is satisfying physically," as quoted by Women's Health Magazine.
Actor Colin Farrell also seems to have joined the yoga bandwagon lately. He has been a regular capture of the shutterbugs outside a yoga studio situated in L.A. "'I do really enjoy yoga and practice as much as I can. And I love getting up and hiking the trails in Griffith Park or wherever," he shared with Daily Mail.
"I love being in a class with students - 30 or 40 people all moving in unison. It's very easy to live where you remain in your head... and you're concerned about various things and constantly contemplating and so on and so forth, so it takes you out of your head for a while and just puts you back into your body," he was quoted by an Irish online portal.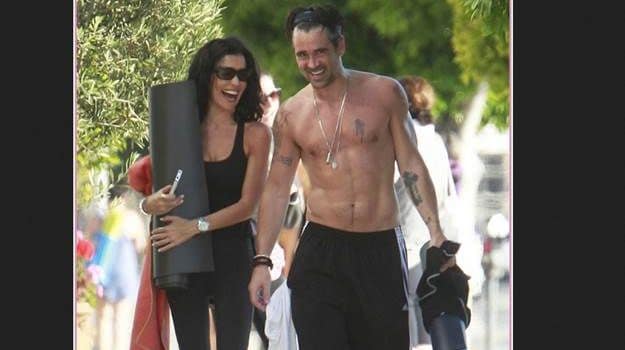 Image via yoganonymousThere you have it! Isn't reading this inspiring enough to stretch out your yoga mats? Start with the basic yogic breathing techniques, and always practice yoga under supervision. Begin with easy poses like Savasana, Tadasana and Trikonasana among others, and feel your body changing and getting prepared to withstand more challenging asanas.