Diabetes is a lifestyle condition that millions across the world are living with. A metabolic disease, it is characterised by high blood sugar levels and low levels of production of insulin. Good thing is that with the right kind of diet and lifestyle changes, diabetes can easily be managed. There are certain foods, grains and produce that can be added to the diet to effectively regulate blood sugar levels. Dietitians also recommend certain fruits that diabetics can safely consume, and one of them is papaya. Did you know that papaya seeds are also quite beneficial for those living with diabetes? Here's all you need to know about the benefits, side effects and how to consume papaya seeds on a diabetes diet.
Is Papaya Good For Diabetics?
Papaya is enriched with plenty of fibre, which is why experts recommend eating it on a diabetes diet. It also keeps the digestive system healthy and in good shape. Since it is a medium GI food, it does not cause blood sugar spikes. Studies have found that papaya is beneficial for diabetics - not just the fruit, but also the seeds.


(Also Read: How To Choose Perfect Papaya And Cut It The Right Way)
Benefits Of Papaya Seeds For Diabetics | What Happens If You Eat Papaya Seeds Every Day?
Papaya seeds are said to be extremely beneficial for diabetics. The papain enzyme in papaya aids digestion and there are a number of other benefits of eating papaya seeds every day. Take a look:
Just like papaya, even papaya seeds are enriched with plenty of fibre. This makes them ideal for maintaining a healthy heart and also regulating diabetes.
Papaya seeds are also high in polyphenols, flavonoids and other antioxidants that can provide protection against chronic ailments such as diabetes.
A study found that papaya seeds have shown inhibitory activity against oxidative stress from diabetes.
Research suggests that papaya seeds can also help lower blood sugar directly thanks to the anti-diabetic compounds in them such as methyl ester, hexadeconic acid and oleic acid.
Is It Safe To Eat Papaya Seeds? | Side Effects Of Papaya Seeds
Papaya seeds are safe to consume, but should always be eaten in moderation. A couple of things about their side effects must be noted before consuming them. Take a look:
Papaya seeds are very bitter, which is why they may cause some kind of gastro-intestinal disturbance in certain individuals.
Experts note that pregnant or breastfeeding ladies should avoid consuming papaya seeds in high quantities, as the enzymes may adversely affect the body.
(Also Read: 6 Surprising Health Benefits Of Raw Papaya You Didn't Know)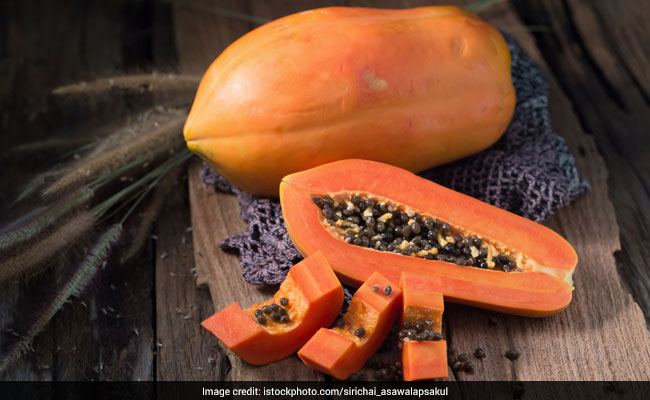 How To Consume Papaya Seeds For Diabetes Diet
Since papaya seeds are quite bitter, it is difficult to consume them raw. You can powder them and add them to juices, smoothies, or on top of desserts. Sprinkle them on curries and gravies to mask their flavour and reduce the bitter flavour. The seeds will add a peppery note to any dish that you sprinkle them on, so you can even add them to salads or stir-fries.


Make sure that you do not go overboard with papaya seed consumption, and always consult a doctor or nutritionist before making any major changes to the diet!


Disclaimer: This content including advice provides generic information only. It is in no way a substitute for qualified medical opinion. Always consult a specialist or your own doctor for more information. NDTV does not claim responsibility for this information.
About Aditi AhujaAditi loves talking to and meeting like-minded foodies (especially the kind who like veg momos). Plus points if you get her bad jokes and sitcom references, or if you recommend a new place to eat at.