One of the best all-year-round fruits is papaya, the health benefits of which are very well known to all. The fruit is used as an ingredient to prepare a range of dishes, including mains, starters and desserts. The humble appearance of the fruit betrays its sweet taste and the fact that it's a powerhouse of nutrients, including antioxidants, essential minerals and vitamins. You may be well-versed with the fact that
papaya
is great for digestion and also detoxifies the liver, but did you know that it may also help you in losing weight faster? Yes, that's right!Papaya can be eaten as a healthy snack as it is a low-calorie fruit. A 100-gm serving of plain papaya pulp contains a mere 43 calories! Papaya is also incredibly versatile and comes with a load of vitamins and minerals that keep the body healthy and hearty. You can use papaya as an ingredient in smoothies, milkshakes, salads, etc., to make your dishes more nutritious and healthy.
(Also Read -9 Incredible Benefits of Papaya Leaf Juice)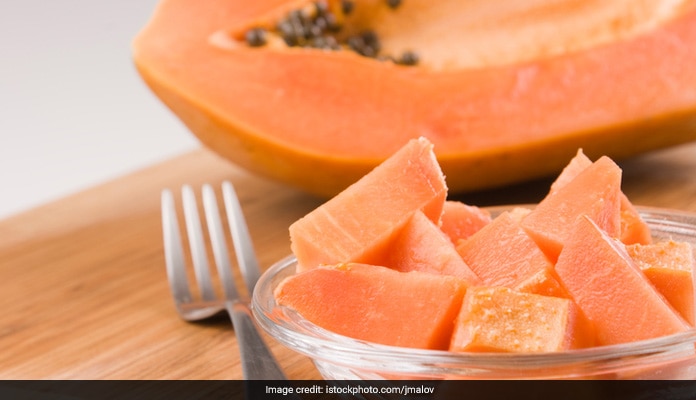 Papaya for weight loss: Papaya can be eaten as a healthy snack as it is a low-calorie fruit
Here Are Some Benefits Of Papaya Which Make It An Ideal Fruit For Weight Loss:
High In Fiber: High-fiber foods are great for digestion and also keep you full for longer, eliminating the need to eat more often. This is why high fibre foods are recommended for people wanting to lose weight.
Fights Inflammation: Papaya is a fruit that is rich in antioxidants, papain, which fights inflammation in the body. Scientific studies have concluded that inflammation may hamper weight loss.
Aides Digestion: According to the book 'Healing Foods' by D.K. Publishing House, papaya contains papain and chymopapain, both of which aide digestion and fight constipation. It can also prevent and heal stomach ulcers. A healthy gut and digestive system have also been linked with healthy weight loss.
Aides Detoxification: The natural fibres present in papaya help in detoxifying the system and cleansing the colon.
Helps In Absorption Of Protein: For people who have a problem of low stomach acid, papain present in papaya helps in digestion of meats and absorption of protein from the meats. Protein is the king of nutrients when it comes to fat and weight loss.
Fights Infections: Certain auto-immune diseases may disrupt normal body functions and may induce weight gain. The presence of anti-viral and anti-parasitic functions in papaya helps in fighting diseases and infections.
How To Eat Papaya For Weight Loss
For maximum results, people looking to
lose weight
quickly should consume papaya during
breakfast
and as a snack, between lunch and dinner. For breakfast, pair papayas with a source of good quality
protein
and a small amount of healthy fats. Eating papaya as a healthy snack after lunch, helps you stay full for longer. It makes it easier for you to resist those sinful evening snacks that you may feel tempted to eat, before dinner. For breakfast, you can either have a bowl of papaya as such or toss a bit of it in one of your healthy fruit smoothies. You can also add protein powder to your papaya smoothie, as the fruit facilitates the absorption of the nutrient.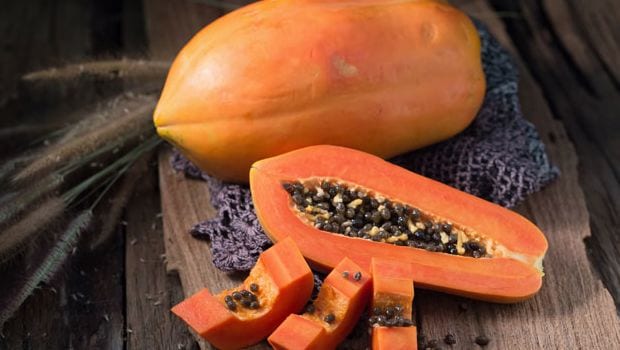 Papayas for weight loss: Papaya helps in the absorption of protein
Papayas can also be tossed along with some greens in vegetable salads, or along with some seasonal fruits in fruit salads. However, it's always recommended to consult an expert nutritionist for advice, in case you suffer from certain food allergies.