Come summers and the urge to sip on cooling and hydrating drinks surges; one of them being coconut milk, which has numerous benefits to offer. It is a thick, milk-like fluid that is obtained by squeezing grated coconut. Thanks to its amazingly rich and creamy consistency along with its natural sweetness, coconut milk forms an important constituent in various food preparations, especially down south. Gulping down a glass of coconut milk, especially during summers can actually help keep your body cool and hydrated. Moreover, it is light on your stomach as compared to dairy milk. Let's dig in deep and know why you should definitely include coconut milk in your diet this summer.
According to Macrobiotic Coach and Nutritionist Shilpa Arora, "Coconut milk makes for a great option for lactose intolerants. It has medium chain fatty acids that are exceptionally good for the brain and body. It helps heal the guts, owing to its anti-inflammatory properties. Coconut milk also contains lauric acid that is found in mother's milk and used in all baby foods' formulae. Use it in summers to make smoothies with mangoes and strawberries. Add chia seed for a perfect weight loss drink."(Also Read: How to Cook with Coconut Milk, The Miracle Liquid)
Benefits Of Coconut Milk
Hot weather invites conditions like heat stroke, heart problems, exhaustion, muscle ache or cramps, et al. Thanks to the coconut milk that acts as an electrolyte for the body. A well-balanced presence of electrolytes in the body promotes normal function of cells and organs.
As an easily digestible fluid, it makes for a great drink for lactose intolerant people and kids.
Coconut milk is known to reduce high blood pressure; thanks to the potassium content present in it that helps manage blood pressure efficiently.
It is due to the presence of iron in coconut milk that can help you get rid of conditions like anaemia.
Coconut milk may also help aid weight loss as it contains dietary fibre that is known to suppress hunger, further preventing over-eating.
The presence of calcium and phosphorus in coconut milk help maintain bone and teeth health.
Coconut milk is also known to increase the efficiency of cellular response to insulin, which helps reduce blood sugar levels.
Drinking coconut milk in summers help prevent dehydration. A glass of coconut milk may help you keep hydrated well through the day.
It's best suited for your skin and hair. Coconut milk has various vitamins and minerals that help promote healthy skin and strengthened hair.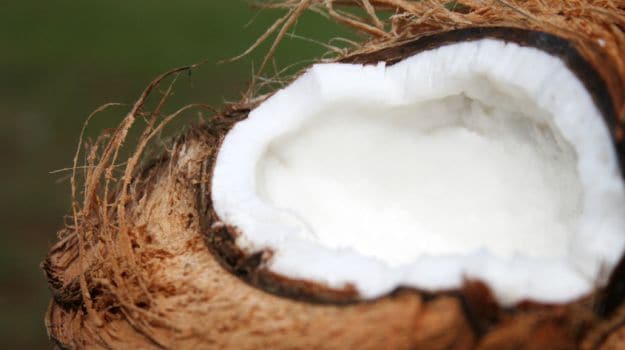 Coconut milk also contains lauric acid that is found in mother's milk.
How To Make Coconut Milk At Home?
There are many ways you can use coconut milk: for skin and hair, for using it an ingredient to cook curries, or for drinking it as is, then follow this simple recipe to make preservative-less coconut milk.
Ingredients:
Grated coconut or unsweetened shredded coconut
Hot water
Method:
Take the grated coconut and blend all of it in a blender.
Let the coconut and hot water sit in the blender for a few minutes to give the coconut time to soften before continuing onto the next step.
Now, blend the mixture until coconut is pureed and looks milky.
Strain the excess flecks of coconuts in a muslin cloth or a fine sieve and collect the milk in a bowl. Make sure you have squeezed out all the milk from the cloth.
You can discard the leftover coconut pulp or just let it dry. This can be used as coconut flour.
After the coconut milk has cooled down, transfer all of it in a large mason jar or other air-tight container.
Use the milk right away. You can store coconut milk for up to four days in the refrigerator.
This summer make sure you sip on some coconut milk and beat the heat like never before.
Disclaimer: This content including advice provides generic information only. It is in no way a substitute for qualified medical opinion. Always consult a specialist or your own doctor for more information. NDTV does not claim responsibility for this information.