In Hinduism, the coconut is a symbol of prosperity and good luck. Every auspicious occasion is marked with the traditional coconut breaking ceremony. Perhaps this has its roots in the fact that it is an immensely nutritious fruit (also called shri phal in Hindu mythology). Rightly so, as it is life sustaining. Its hard shell prevents germs from penetrating, its kernel is a rich source of fats and minerals, and its water is a natural rehydration fluid. Not just the fruit, the entire coconut tree is useful. Soap, oil, coir, mats and food is provided by this gift of Mother Nature. The plant also enriches the soil it grows in, supporting the existence of other plants and crops.
Coconut is an inseparable part of food in the south and coastal regions of our country. Coconut water is now a favoured drink across the health conscious population. Navratri is an auspicious occasion for many, how can this be complete without coconut?(Shop for high-quality coconut products on SmartCooky)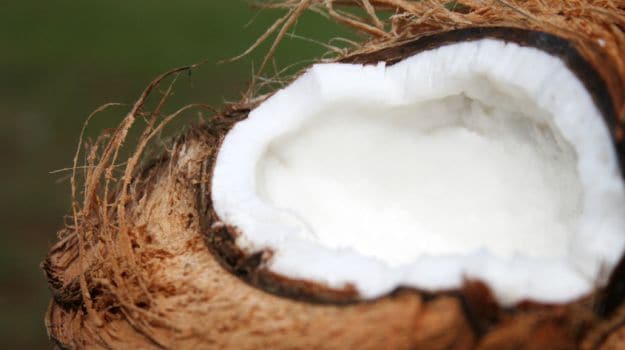 Nutritionally 100gm of fresh coconut provides 444Kcal but packs in 41gm of fat, 240 gm phosphorus and 12.5µg folate.
7 Health Benefits of the Superfood Coconut:
1. Weight loss: The ability of coconut to aid weight loss has been linked to its MCT fat (Medium Chain Triglycerides). A study published in the June 2006 edition of the Ceylon Medical Journal, stated that the MCT fats of coconut are used immediately and not stored in the body. It also observed that MCT has been linked to early satiety and hence we land up eating lesser calories.
2. Fat Check:Coconut is a rich source of saturated fats. A section of these types of fats have been proven to be bad for the heart health as they raise the LDL (bad) cholesterol and total cholesterol levels in the blood while lowering the HDL(good) cholesterol. However, the saturated fat of coconut oil has been found to push up the HDL (good) cholesterol levels too. It is believed that the ability of coconut oil in doing so is more than those of other saturated fats. It is advisable to use coconut judiciously. People with existing heart ailments should be particularly cautious.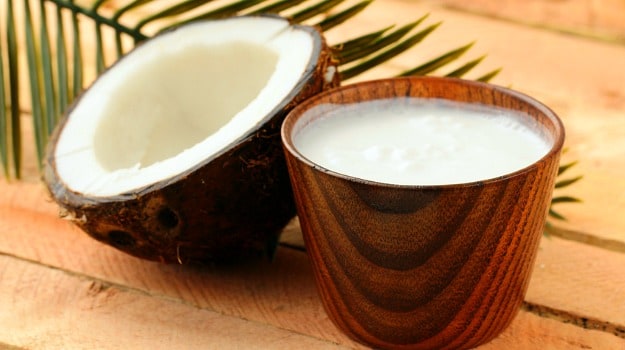 3. MCT: Another group of fats that are exclusively present in coconut are the Medium Chain Triglycerides (MCT). These are rapidly absorbed by the body and utilized immediately by the organs and tissues, providing energy. MCT oils are recommended for patients suffering from liver ailments as this is not metabolised through the liver, giving it rest while providing the much needed energy. NIN recommends that saturated fats from ghee, butter and coconut oils are easily digested and hence good for infants and children. While fasting, we can do with some instant energy to keep us going.
4. Ayurveda Recommends:Baal or tender coconut and madhayam or middle aged coconuts are the best for our body. Coconut is a natural stress buster according to Ayurvedic literature. Cooking it with traditional Indian spices like cardamom, cinnamon, ginger, cloves, cumin, improves digestion and metabolism.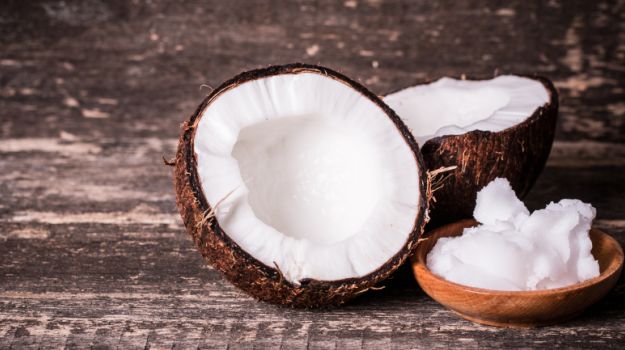 5. Mineral rich: Coconut adds a lot of value to your meals, especially while fasting when you may feel fatigued.
6. The fats present in coconut oil are said to possess antimicrobial properties.
7. Skin & Hair Care: Coconut oil is one of the best skin care products. It is said to kill microbes, is anti-fungal and anti-bacterial. From traditional uses to medical practitioners advising patients to use coconut oil for wound healing and scar removal, I have heard it all. You can use it by adding it to multani mitti for a scrub or pour it along with bath salts into your warm tub of water. It works well for softening cuticles or you could use it in place of a chemical laden night cream for rough elbows or anything that needs care.
Coconut makes for a good snack, adds flavour to your gravies during fasts or could be made into chutney with your samai idli and dosa. The versatility of coconut makes it a popular ingredient across the world. Now we know, it's for good reason too.