How do you define good food? Is it only about extraordinary dishes with expensive imported ingredients or is it about simple creations with honest flavours? Does a stunning presentation with exotic elements tick all the boxes for you or what really matters is the ability of the dish to strike a chord in your heart?It is often seen in India that when one talks of gourmet food, almost immediately it is related to exquisite cuts of meat and exotic ingredients from across the world rather than local, nutrition-loaded, seasonal produce. Our regional heroes always get nudged back to a corner while the high flying imports steal all the attention. Norwegian smoked salmon topped with sour cream and dill, braised New Zealand lamb shanks in wine and rosemary, pan-seared Japanese Kobe steak, or pasta in black truffle butter sauce you just won't hear enough of it! (
Imported Fruits Causing a Threat to Local Industry
)We all strive for the best. In terms of food too, I am sure every cook's secret wish is to get his or her hands on the world's finest produce throughout the year, but does it really have to be at the cost of neglecting our own local resources? India is a treasure trove of seasonal produce, each unique in flavour, texture and colour that any enthusiastic cook will definitely be able to create a range of spectacular dishes. While the glitz of global cuisines can make one get carried away, it is about time we start paying more attention to our local food sources and act responsible towards it.(
Twist Local Tastes to Avoid Boredom: Chef Vineet Bhatia
)
Season to Eat
Compared to the West, Indian households have been significantly conscious about seasonal produce for generations. In many parts of the country you will still find people following the custom of visiting local markets and hand-picking fresh, seasonal ingredients for the day. If you try to sell them older stock or off-season veggies, you will probably get an earful.(
World Environment Day 2015: 9 Ways to Avoid Food Wastage at Home
)One of my most beloved dishes is
aloo gobi mattar
, but I remember while growing up it wasn't something I could relish throughout the year. Cauliflowers and peas came home only during winters because that's when they were in season. There is also this wild plant called
dhekia
or fiddlehead fern which I am very fond of and is available only during early spring in Assam. A quick stir-fry of the leaves with boiled horse gram is a delightful treat and a powerhouse of anti-oxidants and omega-3.(
Recipe: Dhekia Xaak
)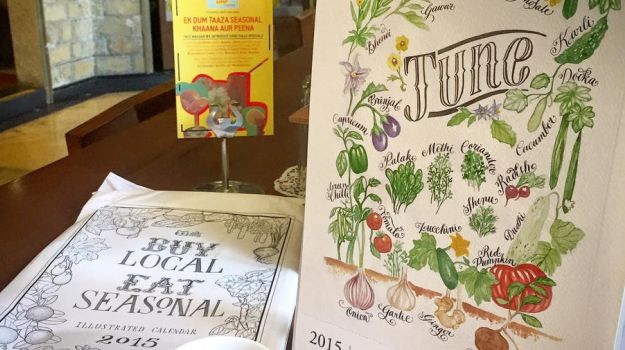 Photo credit: Chef Thomas Zacharias from The Bombay Canteen
While a few traditionalists religiously follow the seasonal chart, the urban folks have been blindly picking whatever catches their fancy from the supermarkets without giving a thought to what is in season. What they fail to understand is that the all-year-around vegetables are far from being fresh and healthy. They are grown by pumping the plants with harmful chemicals and pesticides thereby stripping them off their natural goodness, which can also lead to various ailments in the long run.(
How to Keep Greens Fresh | Kitchen tips
)The more we seek imported and off-season ingredients we encourage a market that is based on aggressive agricultural methods. To meet the high demand of such consumers, this mass production system makes use of chemicals, pesticides and genetically modified seeds that severely impact the earths natural resources. For example, every crop cycle impacts the soil, which then requires some time to regain its properties. Aggressive reproduction of vegetables exhausts the soil and takes away all its good qualities.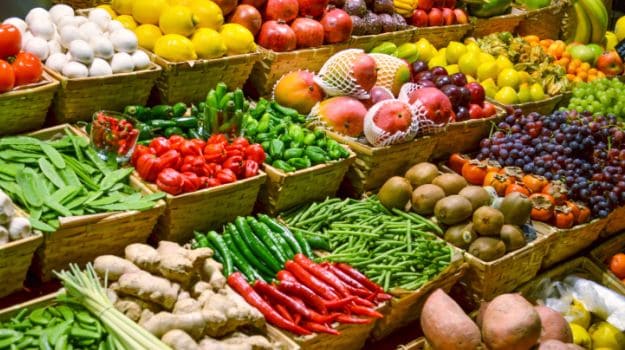 If we continue on this path, then our future generations will probably not be able to enjoy natures bounty at all. This is why it is important for us to encourage a sustainable system and promote the consumption of local seasonal produce.
(Earth Day: The Rise of Slow Food in a Fast Food World
)
Local Heroes in the Spotlight
Luckily, with the current drift towards local, sustainable food one can only hope that more and more people follow suit. Popularising this trend in the country, we have a number of restaurants going all out to bring the local heroes to the spotlight.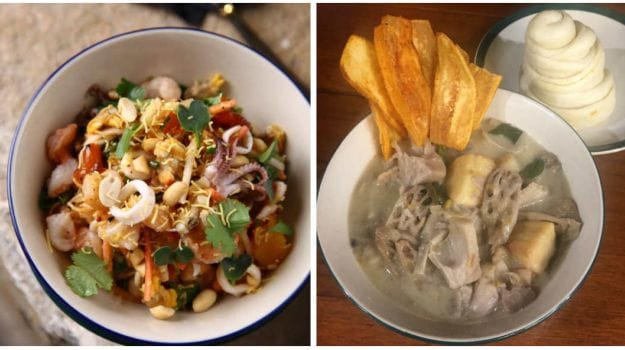 Seafood Bhel and Amminis Vegetable Ishtew
Chef Thomas Zacharias from The Bombay Canteen, Mumbai, says, "Our menu is a celebration of local and seasonal produce. In India, one gets to relish seasonal ingredients in the local homes but not in a restaurant. We have tried to bring them to the spotlight by playing around with flavours and reintroducing them in a new manner."It is no wonder that the diners are raving about smashing dishes such as Amminis Vegetable Ishtew with Kathal and Kohlrabi; Seafood Bhel; Baked Stuffed Snake Gourd with Hara Vatana-Kishmish Filling; Red Rice Biryani with Papdi, Tendli and Baby Potatoes; Spicy Lauki and Besan Kofta; and Poha Crusted Paneer with Spicy Watermelon Curry and Gondhoraj Lime Relish to name a few. His current local ingredient obsession is moringa, also known as drumstick leaves, and he is busy experimenting with it.Chef Joy Banerjee from Bohemian, Kolkata, says, "It is not an easy task when it comes to sourcing local seasonal ingredients. But in my quest, I have now built relationships with local farmers and can trust them with their quality of products. It is very important to contribute towards a sustainable local system."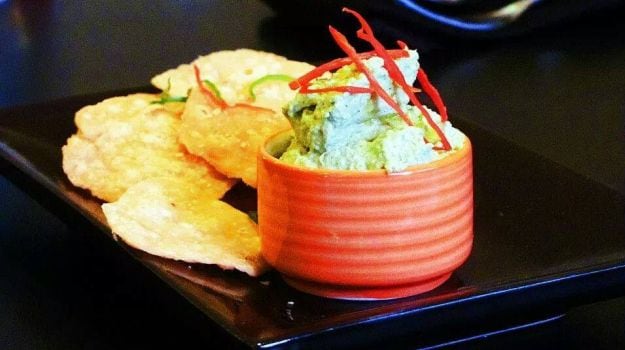 Bengal Wax Gourd and Garlic Mousse with Papdi Chips
Bohemian's contemporary menu features some spectacular dishes made using local ingredients that are available in Bengal Wax Gourd and Garlic Mousse with Papdi Chips, Banana Stem Patties, Topshee Fritters with Kalojeera and Poppy Seeds, Smoked Ilish Consomm with Ilish Roe Shavings, Gondhoraj Sorbet, among others. Chef Banerjee is currently experimenting with water apple, also known as jamrul or love apple.If you keep an eye out for local as well as indigenous produce, you will be surprised by the stunning variants that come and go as per the season. Whether it is
dhekia
,
bathua
, red and black carrots,
chaulai
(amaranth leaves),
gongura
(sorrel leaves), lotus roots,
bael
, Indian olives, butter fruit,
kewra
(screw pine),
kalpasi
(black stone flower),
kathal
,
tindli
, ker, sangri, etc. there are plenty of choices to experiment with and soak in seasonal goodness.
Unravelling the Mystery of Delicious Indian Food
As the saying goes, there is a right time for everything, one mustn't try to change the rhythm of nature. Ask yourself honestly, would
Gajar ka Halwa
ever be so popular if the red carrots were available throughout the year? Or would
Undhiyu
be the most relished dish in Gujurat and western India if the root vegetables were not winter bound? A little patience always bears sweet fruits and we must learn to respect the different seasons and value the gifts each brings along with it.