The perfect way to start our day is with eggs on our plates. And boiled eggs offer us the ease of cooking while making our meals healthier. But peeling hard-boiled eggs can be a frustrating and time-consuming task. If not done the right way, it can also result in uneven and mangled egg whites, which, to be frank, lose their aesthetic appeal. One wrong move can destroy the whole egg by cracking the smooth surface. If you also struggle to peel hard-boiled eggs to uncover smooth and round eggs inside, we have some very helpful tricks for you.


Also Read: Cooking Tips: How To Poach Eggs In A Microwave
How Do You Get Boiled Eggs To Peel Easily? Follow Any Of These 7 Hacks:
1. Drop In Hot Water
When boiling your eggs, make sure to immerse them in hot water right from the start. By introducing the eggs to hot water, you expedite the cooking process, preventing the egg whites from reaching high temperatures. This reduces the likelihood of the membrane sticking to the shell, ensuring a smooth and trouble-free peel.
2. The Ice Bath Method
The ice bath method is an effective hack for easy egg peeling. Once your eggs are boiled, transfer them immediately to a bowl filled with ice water. Let them sit for around 5 minutes to cool down. The sudden change in temperature causes the egg white to contract slightly, creating a gap between the shell and the egg. This makes it easier to peel off the shell.


Also Read: Egg Hack: How To Check Freshness Of Egg With A Simple 'Float' Test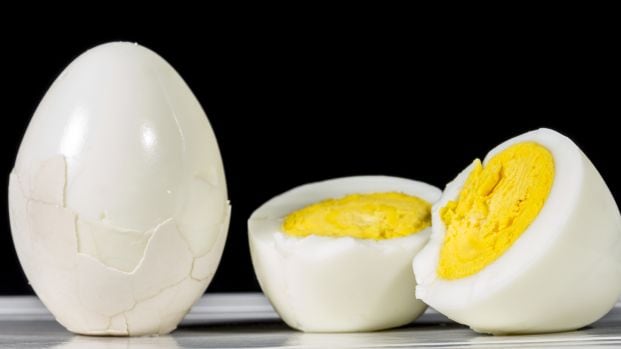 Eggs that are not peeled properly, turn out uneven and unappealing. Image Credit: iStock
3. Boil With Baking Soda
Add a teaspoon of baking soda to boiling water right after you throw in the eggs. The soda will make the water alkaline and it will loosen the bond between the egg whites and the shell, transforming your eggs into peel-friendly delights.
4. Swirl And Crack
Plunge your boiled eggs into a jar of cold water and give it a good swirl. The swirling motion allows the eggs to collide with water delicately and the rhythmic movement forms tiny cracks on the shell's surface, which you'll be able to peel open easily.
5. Rolling And Peeling
This is a tried-and-tested technique for easy egg peeling. Place the boiled egg on a cutting board and roll it with the palm of your hand. With each stroke, the eggshell will crack, making way for easy peeling.


Also Read: Mind-Blowing Egg Hacks That Will Make Your Life Easier
6. Roll and Tap
It is similar to the previous method but makes the job a lot easier. After boiling your eggs, drain the hot water and shake the pot to crack the shells. Then, take an egg and roll the egg back and forth. Finally, tap the wider end of the egg against the surface to create a small crack, and then peel away the shell, starting from that cracked point.
7. Chill To Peel
After boiling, let the eggs chill first for a minimum of 15 minutes or let them refrigerate overnight. This process firms up the egg's texture, making it a breeze to peel.


With these simple egg hacks, you can effortlessly peel hard-boiled eggs, leaving you with beautifully smooth and intact eggs every time.
About Neha GroverLove for reading roused her writing instincts. Neha is guilty of having a deep-set fixation with anything caffeinated. When she is not pouring out her nest of thoughts onto the screen, you can see her reading while sipping on coffee.