Want to learn how to clean your kitchen naturally? Here's help.
No one wants a dirty kitchen. Whether you follow the leave-the-mess-for-later philosophy or clean up there and then, it's a daunting task. Between sticky countertops, dirty dishes and scraps of dough from Sunday baking on the floor, you need a fabulous cleaner on hand. And did you know: all conventional cleaning products and detergents available in the market contribute to air pollution inside our homes? So if you actually want the area where you chow down to be squeaky clean without toxins lurking under the guise of 'cleaning' products, sans the carcinogens or allergy causing chemicals - we bring you the magical world of DIY cleaners. These au naturel products work wonders no doubt, but will also help you save money and give you peace of mind knowing exactly what goes into each bottle. We've listed 7 natural ways to clean your kitchen, all of which require just a few supplies, and lucky for you - the key ingredients are hiding in your pantry. You can surprisingly make most homemade cleaners with different mixtures of baking soda, white vinegar, water, essential oils and lemon juice. White vinegar is in fact a natural disinfectant which contains 5% acetic acid and has antimicrobial properties, great for removing grease and grime. Essential oils such as tea tree oil and grapefruit essential oil have antibacterial and antiseptic properties, plus they smell great and take away from the pungency of vinegar. Baking soda makes for a great scrubbing agent, especially for cleaning tiles.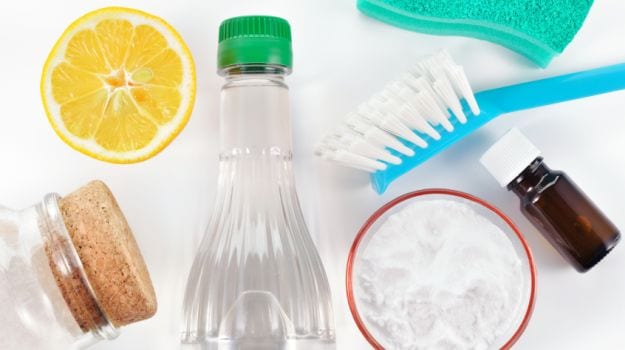 So without further ado, here are 7 DIY kitchen cleaners sure to keep the toxins at bay.
1. Bottle Cleaner
Fill 3 quarters of a thin-necked bottle with warm water and add 1 tbsp of uncooked rice. Cup your hand over the opening, shake vigorously. Rinse and voila!
2. Refrigerator Cleaner
Before you give your fridge a good scrub down, turn it off. Remove all of your food items, and then take out any parts of the fridge which can be easily removed like trays. Mix 1 cup white vinegar with 2 cups hot water and 1 tablespoon essential oil in a spray bottle. Scrub the inside of your fridge and the trays with this DIY mixture until it's spotless.
3. Remove Tarnish
Ketchup is not just for french fries. To remove tarnish from copper and brass pots and pans, dab some ketchup onto a soft cloth and gently rub. Rinse with warm water and voila!
4. Non-Toxic Oven Cleaner
I'll be honest - I put off my oven cleaning till the dirt is glaring at me. But this wonderful mix of baking soda and water might just change that. It really is so simple.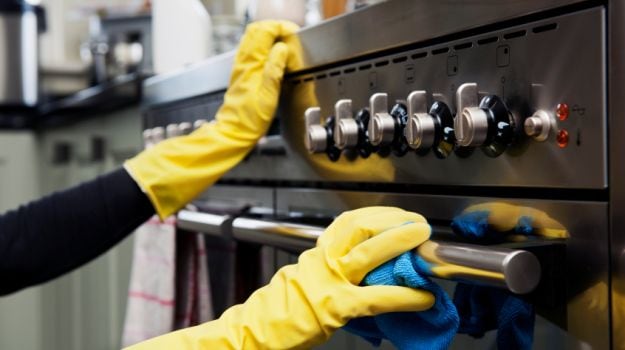 5. Cast-Iron Pans
To clean a cast-iron pan, add 2 tbsp of any essential oil of your choice and place on medium heat. Once the pan is heated, stir in 3 tbsp of salt. Now use a tong to hold a paper towel, scrub until clean.
6. Kitchen Floor Cleaner
The kitchen floor is covered in germs and dirt, spills and drips so you need to get rid of the dirt and stains, but also disinfect. Mix white vinegar with hot water and lemon juice to sanitize your floors and make them shine. If you have hardwood floors, you can use black tea since the tanic acid adds shine and removes dirt. Boil a pot of water and add 5-6 tea bags. Pour into a bucket and mop away. Dazzling floors await!
7. All-Purpose Spray
We saved the best for last. You need an all-purpose mix for cleaning countertops, walls and even the sink. Something that's always on hand. You can use the basic, but effective vinegar-water solution. Or you could try my brilliant recipe - cut orange peels, add 1 tbsp salt and let it sit for 15-20 minutes in a glass jar or bottle. Fill the container with equal parts white vinegar and water and let the solution sit for 2 weeks. (The longer it sits, the more effective it is). Strain the solution and fill a spray bottle with this all-purpose mixture. You can even add a few drops of essential oil and spray away. The best part is that the citrus scent overcomes the strong smell of vinegar and cleans better too.