While the golden age of food trucks is still going strong in the Western world, back in India, we've just about started to explore the trend. With its roots in America, the inspiration probably came from the chuck wagon of 1860s historically used to carry food and cooking equipment for traveling workers. Now, these restaurants on wheels have taken over the food scene and are serving every kind of gourmet comfort food.But know that it's a familiar concept. We are a nation that loves street food and the oldest mobile meals were synonymous to our very own Indian-Chinese vans or Dosa carts. Over time, these have grown into a new breed of food trucks we know today with quirky menus and fully-equipped kitchens on board, featuring some of the best bites.If your idea of a great meal is a sit-down dinner at a restaurant, then these food trucks are breaking all rules. They draw hungry college-goers and office workers, serve up a quick meal when you're late for your movie and satisfy foodies who know that sometimes the best food doesn't come from a fancy kitchen but from the window of a van. I can't call them the latest food trend but when it comes to good food served quickly and priced reasonably, they're one of the best things happening to our culinary scene.
(Asia's 50 Best Restaurants - 2015​)
The Future of Food Trucks
What may seem easy is certainly not. Food truckers have to battle with authorities, license logjams and other legal formalities. There are no proper guidelines or rules for them and most cities do not have a friendly approach towards mobility. "Legislation issues raise sustainability concerns. Moreover, they have to face a lot of competition from local vendors and customers who have their own loyalties," says Food Blogger Anoothi Vishal.Yet with soaring taxes and the demand for food that is novel and fast, food trucks can be the new incubators of the restaurant industry. Some see it as a great way to test culinary concepts before setting up a restaurant. They have the potential to revolutionize the eating out preferences here. They sell a social experience along with fresh and loaded tacos or juicy burgers for a price that won't hurt your wallet. The rise of food trucks in India can be credited to consumer interest more than economic considerations that govern the West."If you get single-dish innovations right, focus on International cuisine and manage to create a buzz, it's a fabulous idea. When traveling abroad finding food trucks is quite an adventure. They represent the culinary culture and allow you to sample a wide variety," she adds.While food trucks are increasingly roaming the nation's streets, we're taking a deep dive into the very best of Delhi. You will find here a mix of seasoned chefs and ambitious amateurs trying to turn things around and give street food a serious makeover.
1. Super Sucker
Super Sucker was born out of the owner, Karan Malik's love for cooking. The idea was to make people familiar with world cuisine at once place keeping in mind health and hygiene. So from American and Mexican to French and Mediterranean, you've got all that you need. The menu features International dishes with interesting Indian flavours. "When I started they were only four food trucks now there are around 20, the concept is growing at a good space," says Malik. They have also started catering for private as well as corporate events.
Where to find it: Karan says he loves being around Sarita Vihar or Jasola Metro Station in South Delhi but you'll also find it at Wellington Estate II, DLF 5 in Gurgaon. 098715 47714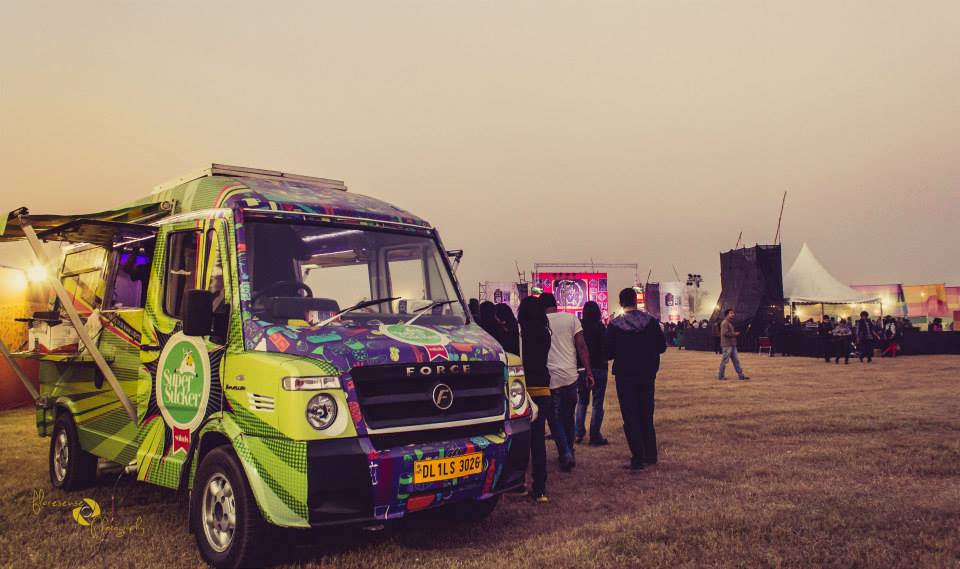 Photo Credit: Facebook/Super Sucker
(10 New Restaurants Launching in Mumbai to Look Forward To​)
2. Frugurpop
Frugurpop started operations last year in Gurgaon. A passionate foodie and a food expert came up with the concept of serving people 'Paletaz', a Mexican ice pop made from fresh fruit and other organic ingredients. In search for something new and exciting, Pallavi Kuchroo along it her partner Sudhir Grover brought us the first of its kind handcrafted Popsicle. "We wanted to create different experiences in different locations," shares Pallavi.The good news is that this frozen delight is made without any preservatives or artificial colours and contains fresh fruits. Within the range of Rs. 100 to Rs 200, you'll find an exclusive variety along with sugar-free ones. Fruity, chocolatey or creamy, you'll find what you want here. Keep an eye on it as it is beginning to become a household name.
Where to find it: Sector 57 Gurgaon, Willington Estate and Trinity College. 09833141983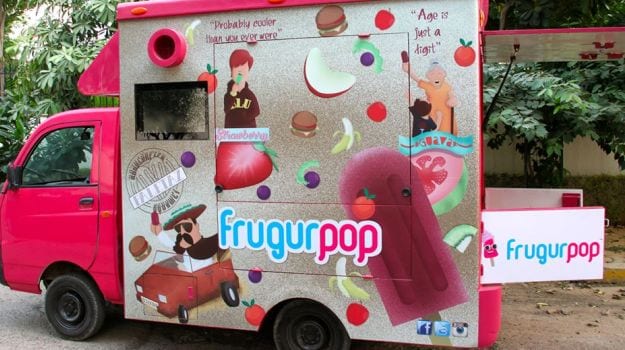 Photo Credit: Facebook/Frugurpop
3. The Lalit Food Truck Company
Head here for some 'gourmet street food'. They've been around for quite some time serving crispy tacos, hand cut fries, fresh wraps, churros and more Mexican fare. If you're not a fan of Latin American cuisine tuck into a burger or falafel wrap. Owner Mr. Keshav Suri kept the menu simple to attract youngsters and professionals alike.
Where to find it: It's usually on Barakhamba Road but you can track its location on their website. 08800308555.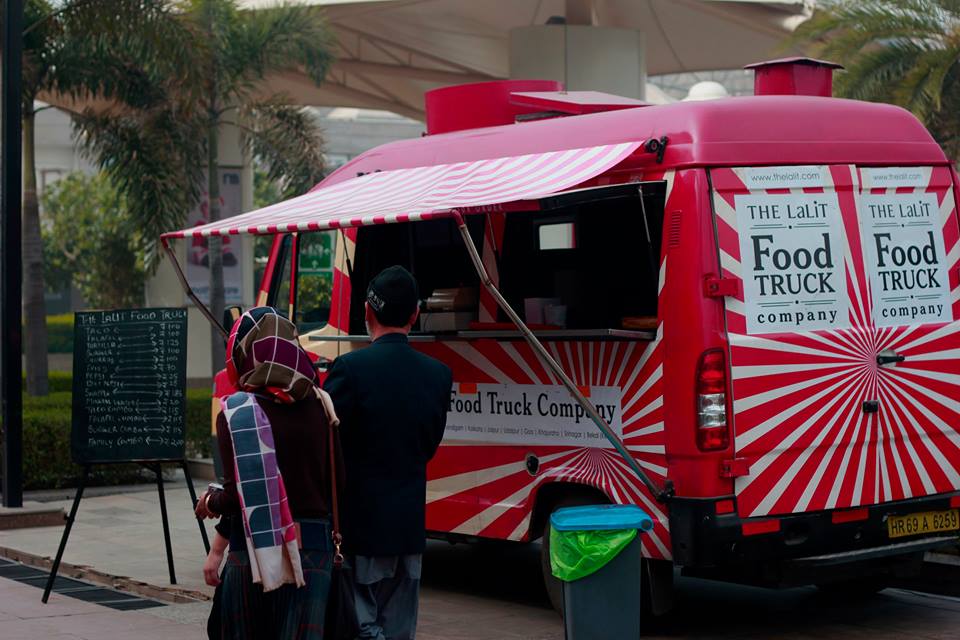 Photo Credit: Facebook/The Lalit Food Truck Company
(Restaurant Review: The Toddy Shop (Hauz Khas Village, New Delhi)​)
4. Hoppers and Kobri by Flavour Labs
Flavour Labs is a boutique food and hospitality company that operates two food trucks Hoppers and Kobri. Kobri was started in October 2014with an innovative menu that fuses South Indian food with global flavours. Don't miss out on their signature dishes like Idliwiches (idli sandwiches) and Dosa wraps. The idea was to explore and celebrate different food concepts.Their second venture, Hoppers focuses on casual and healthy food with an assortment of quick grab-and-go bites like burgers, sandwiches and salads.
Where to find it: Mostly at Dlf Phase 5 in Gurgaon. 01244266041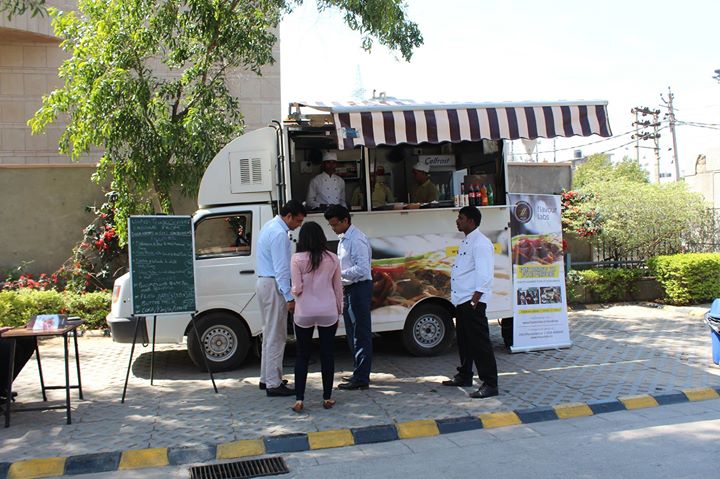 Photo Credit: Facebook/ Flavour Labs
5. What the Truck
The first truck was started by Gaurav Gianchandani in 2014. Now, he owns about five to six trucks. The menu comprises of mostly American grub. The Chilli Doggie Dog is a must-eat here. A chicken frankfurter stuffed with spiced keema. It's loaded, juicy and messy in a good way. It's also interesting to know that all their trucks run on solar energy, shared Gaurav.
Where to find it: Sector 29, Leisure Valley Road in Gurgaon. 9810337934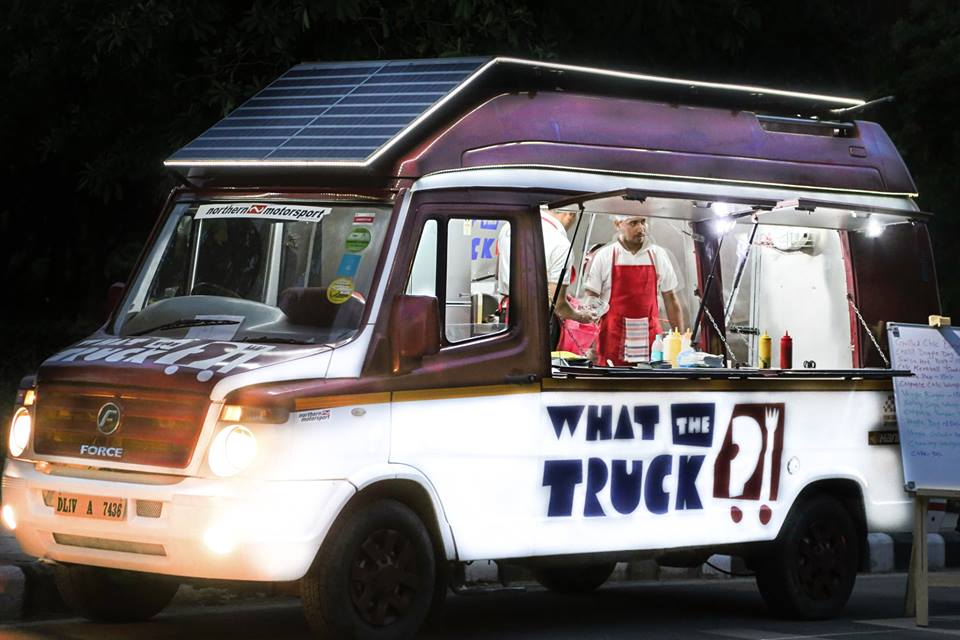 Photo Credit: Facebook/ What the Truck?
6. Oh Buoy
The food truck sensation spread to Noida with Oh Buoy. This is your one-stop shop for everything from breakfast to Mexican, Lebanese, Italian and Continental food. We hear their worth a visit for their chicken wings and burgers. They have just started with online delivery which makes their food just a click away.
Where to find it: Amity Noida and DLF IT park in sector 62, Noida.096540 00909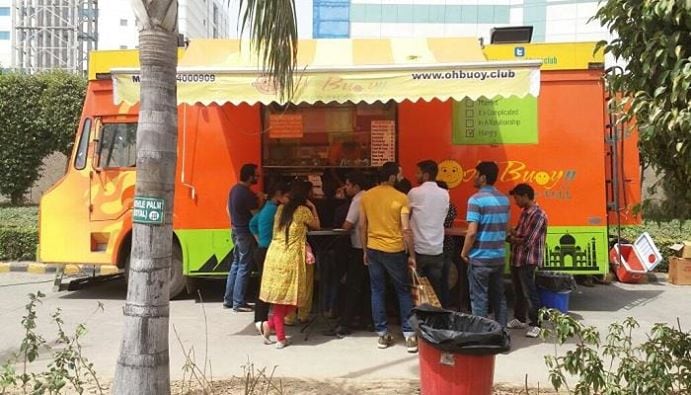 Photo Credit: Facebook/Oh Buoy
7. Drifter's Café
Drifters Cafe which parks itself right next to What the Truck? in Sector 29, Gurgaon serves some delicious South-East Asian meals. Get your fix of Thai curry, momos, spring rolls and their signature corn cakes here. This modern-version of the Indian-Chinese van will take you back in time. Owner, Ankur tell us that the inspiration came from the caravans that line the streets of Thailand.
Where to find it: Sector 29, Gurgaon. 9930604885
8. Eggjactly
One of the most popular food trucks in the city, Eggjactly is the new kid on the block. Launched this year in January, their idea was to give street food a healthy makeover by using a key ingredient – eggs. Come here for a big fat breakfast with egg specialties like the anda-bhurji pav, the hangover meal with bacon, ham and cheese and good old classics. Don't be disappointed if you're not a fan of eggs. They also have juicy burgers, creamy pastas, crepes, waffles and wholesome sandwiches.
Where to find it: Leisure Valley Road, Near Sector 29 Market, Gurgaon. You can also track the truck on their website.
Photo Credit: Facebook/EGGjactly
9. Forkilicious
While Gurgaon has become a hotbed for food trucks, Delhi seems to be warming up to the idea finally. The Forkilicious food struck is all set to serve you from 8th August, quick and handy foods like burgers, sandwiches, poutine, rice bowls and some coolers.Look out for chef's special items like Crispy Jerk Chicken Burger, Butter Chicken Burger, Sloppy Beans Burger and Bombay Street Style Sandwich amongst others.The idea has been conceptualized by two school friends- Alisha Jeswani and Aditya Sood who were inspired by the movie 'Chef'.
"
Being mobile will give us the great advantage of reaching out to people at their convenient location and the ability to change location as per the market response. The challenge lies in deciding on the correct suitable location to park so as to reach out the target audience,"says Alisha.Where to find it: Prof N.D kapoor Marg, Behind Hansraj college, Delhi University (North Campus), Kamla Nagar
10. Dosa Inc.
One of the few trucks in Delhi that'll serve you a traditional South Indian meal worth every penny. On weekends, you'll find them parked outside offices and educational institutions feeding a hungry horde. Popular plates include
idlis, vada
and tomato-onion
uttapam
. Started by a husband-wife duo, they use age-old recipes for authentic taste.
Where to find it: One of their locations is opposite 204 Radio City, Okhla Industrial Area, Phase III.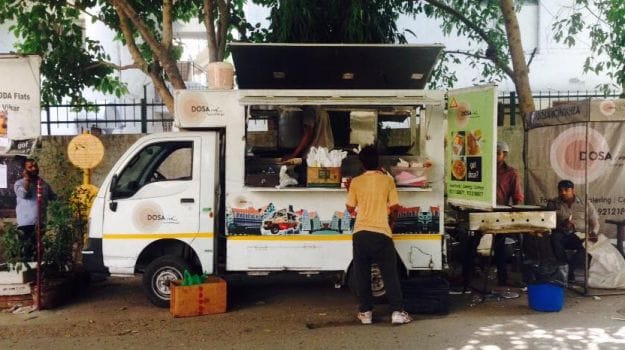 Did we miss any? Tell us in comments.