Pothu Erachi Varattiyathu
As we kick off the Restaurant Review series at NDTV Food, we thought hard about what restaurant we should review first. Should it be a fancy fine-dining place with new-age food being served or should we go the street food way and dig out small popular eateries? But in the midst of these discussions, we realised that it should be neither of these. The food scene in India has transformed in the past 2 years, and how. Two aspects that have been an integral part of this transformation are the rise of regional Indian cuisines and small cosy restaurants that are offering alternative dining options. Thus, it is only apt that our first review is one that embodies both of these.The Toddy Shop is located in Hauz Khas Village (HKV) and if you do not know your way around, it can be quite a task to find it. But as you make your way up the narrow staircase to the second floor (quickly passing the loud Bollywood music blasting away on the 1st floor), you enter a space that is both relaxing and intriguing. A backlit bar beckons you towards the left corner while there are tables placed along the L-shaped space. With only 7 tables, it thankfully steers clear of cramming every corner with seating space and offers a certain amount of privacy and affords conversation.The décor is simplistic, bright yellow walls accentuated with framed black and white photographs of Chinese Fishing Nets, popular in Cochin. A stage in the corner has musical equipment set-up and we were told that they host live music performances and even poetry recitals amongst other events.
(Kerala Food Meets Arabic Influences: The Lesser-Known Mappila Cuisine)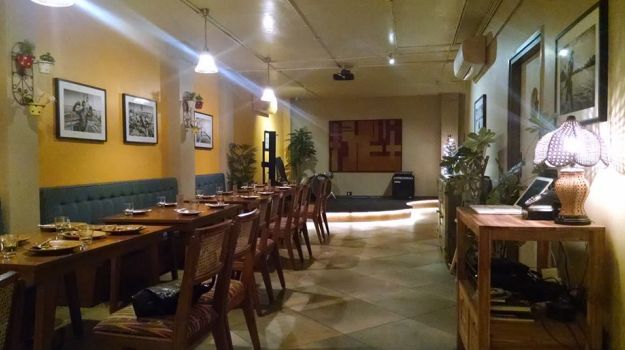 Choosing not to sit at a table, we took our seats on the bar-stools at the bar. The bar is not too long, with 4-6 bar stools around it but it is wide enough for you to comfortably enjoy your meal. The Toddy Shop serves draught beer too and we tried the Bira Blonde (Rs.380). Extra malty, with a delicate aroma, the beer was refreshing and perfect to counter the humidity outside. For appetisers, we recommend the Kothu Porotta (Rs.200-260), which essentially is shredded flatbread tossed with vegetables/ eggs/ chicken or mutton as per your preference. Served with a delicious
chutney
, it is not very authentic but rather their take on the popular street food from Kerala.We also loved the Pothu Erachi Varattiyathu (Rs.320), a spicy tenderloin fry that would work equally well with
porottas
as it did by itself. Though the meat was well cooked and spiced just right with curry leaves giving it an edge, it did border on being a little dry. It went well with the beer, but by itself, could have been more moist. Chef Vicky Ratnani loves their chicken fry: Kozhi Varathadu (Rs.280), another dish on the menu that pleases the taste-buds.
(7 Parottas That Are a Must-Try When In South India)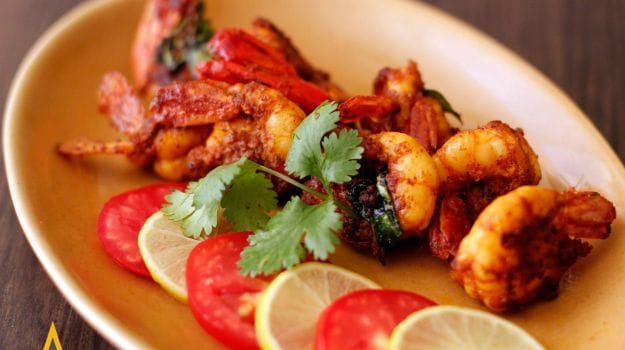 Chemeen Varathadu
For mains, we tried the Chemeen Moilee (Rs.420), which blew our minds. Sometimes, one doesn't need bold overpowering flavours to make a point. The delicacy of subtle flavouring is an art that many restaurants are yet to master. The Toddy Shop does that with this one dish. The yellow coloured, coconut-milk based gravy was absolutely lip-smacking. We tried it with fluffy
appams
and flaky Malabar Porottas, and as versatile as it was, it went well with both. The prawns were perfectly cooked and the quantity was sufficient for two (it had five large prawns and plenty of gravy to lap up with your
appams
). If you do make your way to The Toddy Shop, this is the one dish that we recommend you must try.
(South India's Spice Hero: How to Make the Famous Gunpowder)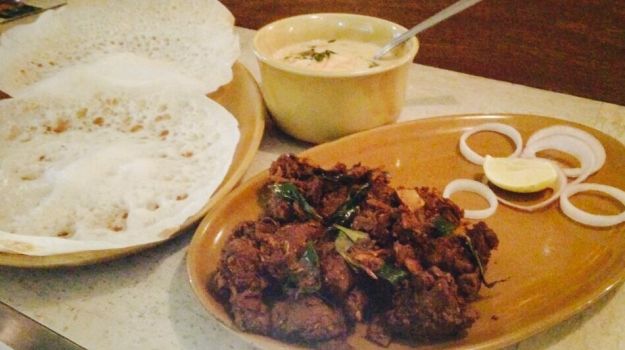 Appam with Pothu Erachi Varattiyathu and Chemeen Moilee
For dessert, skip the generic pancakes and go for the Semiya Payasam. After all, the restaurant is all about flavours from Kerala and that is what it does best.Delicious food, a relaxed vibe and beer on the tap, The Toddy Shop is a great place for an afternoon lunch. Leave the pub-hopping for the evenings and find your way here for some authentic Kerala food. The Toddy Shop hopes to fill the void that Gunpowder left when it shut shop. With Coast Café nearby, it does have its work cut out but in the one year of its operations, it has managed to carve a niche of its own in the crowded Hauz Khas Market.
Meal for 2:
Rs.1500 (without alcohol)
Location
: Hauz Khas Village, on the right side in the beginning of the market, below Bootlegger.
Happy Hours
: 3pm-8pm Monday to Friday
Rating
: 3 on 5
Must Have
: Chemeen Moilee with Appam