If there's one dish that we probably don't mind waiting for (patiently), even if it takes 30 minutes to be served, is pizza. It wouldn't be wrong to say that no other International dish has managed to make such a significant mark in the culinary landscape of the country as much as this Italian classic. It's an absolute favourite and any special occasion, movie night, game night, get-together, birthday party, kids party, or even late night at work, home alone, bad day etc. call for pizzas – an immensely satisfying treat.As much as we love pizza and consider it as comfort food at its best, the process of making it is not an easy task and not everyone can get it right. There's art involved in dishing out perfectly crisp pizzas with a delicious mix of toppings. But thanks to the fast-growing tribe of pizzerias in the capital city that enjoying gourmet pizzas whenever you wish is easy and effortless. And there are so many options to choose from! In terms of the base too, you can pick a thin crust, deep dish, pan cooked, or wood-fired pizza. When it comes to the sauces and toppings, you can stick to classics like Margherita and Pepperoni, or go all out and explore interesting flavours like four cheese, salmon and sour cream, honey glazed ham and pineapple, artichokes heart and zucchini, meat balls in Bolognese sauce, and even Indian twists like
lal maas
, spicy mutton
keema
, and chicken
tikka
among others.Yes, these pizzerias are going all out to please the customers and we definitely should make the most of it! So without further ado, here's the list of our top ten places to get the best pizzas in town -
1. Crusty Gourmet Pizzas & More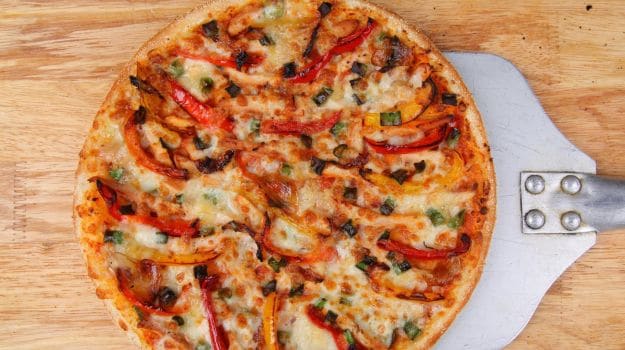 The name has it all, because what we love about these pizzas is the crust or the base. You can choose between original crust or super thin, and they are both rustic and done well. The pizzas are available in four sizes – 6, 9, 11 and 15 inches. Our favourite toppings include Peri Peri Veg, Mutton Keema Khansaa, Moroccan Lamb and Szechuan Prawns. There's plenty to explore as they offer a wide range – from classic Italian, Moroccan, Chinese, and Indian.
Where: Gurgaon and Safdarjung
Price: Starts at Rs 135, excluding taxes
2. NYC Pie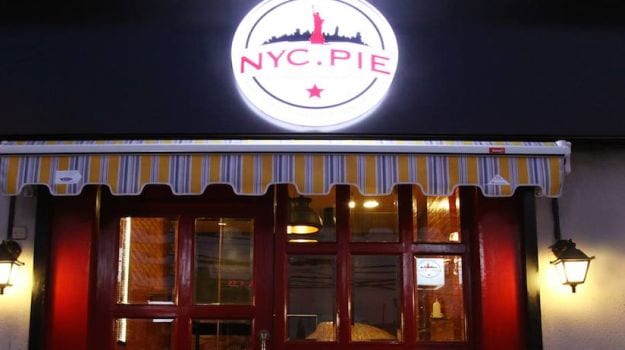 This pizzeria is popular because of its New York-style pizzas, which are often referred to as pies. Why we love them is because of their interesting flavours. The pizzas are thin-crust and made in brick ovens. They are available in the sizes 8, 12, 14 and 16 inches. For the base you can choose from regular, whole wheat, garlic and provencial spices. Coming to the toppings, we love the Fromagi Fromagi, which is loaded with mozzarella, blue cheese, ricotta and cheddar; Tres Lobos, a treat for mushroom lovers; La Bomba, with pepperoni, honey glazed ham, Spanish chorizo and Italian sausage; and Hog Heaven with barbecued pulled pork and caramelized onions. If you want your pizza fiery hot, then don't forget to ask for hell sauce!
Where: Gurgaon and Defense Colony
Price: Starts at Rs 250, excluding taxes
3. Jamie's Pizzeria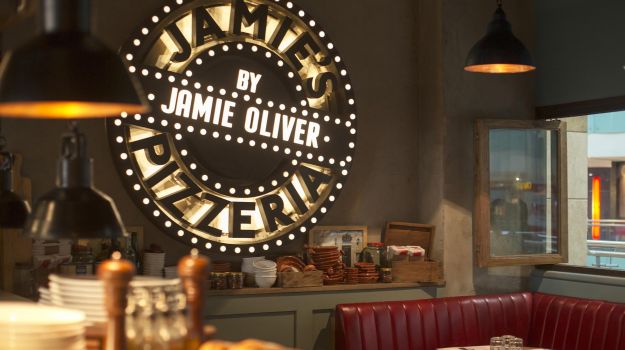 This new hotshot pizzeria is the talk of the town not just because of the celebrity chef brand tag, but for dishing out some really great pizzas. Their USP is the pizza crust – made fresh everyday, has a super thin crust centre with slightly chewy edges. They boost of using the best local produce and have some interesting toppings, our favourites being Funghi Woodman with roasted wild mushrooms, White Rocket which comes loaded with three cheeses, and a spicy option called Chicken Alla Diavola. Their selection of pizzas is limited, but there are also appetisers and sides to choose from.
Where: 3rd Floor, Ambience Mall, Gurgaon
Price: Starts at Rs 199, excluding taxes
4. Instapizza
If you are heading here, the one item on the menu that you should try for sure is The Monster Deep Dish Pizza. Warning: a huge appetite is a must! As the name suggests, the pizza is a meal in itself, and comes loaded with toppings of your choice. For the regular pizzas, you have the option of creating your own with unlimited toppings and without extra charge. We love the Smokey Chicken and Chorizo, Garlic and Green Chilli.
Where: Gurgaon and Kalkaji
Price: Starts at Rs 135, excluding taxes
5. Fat Lulu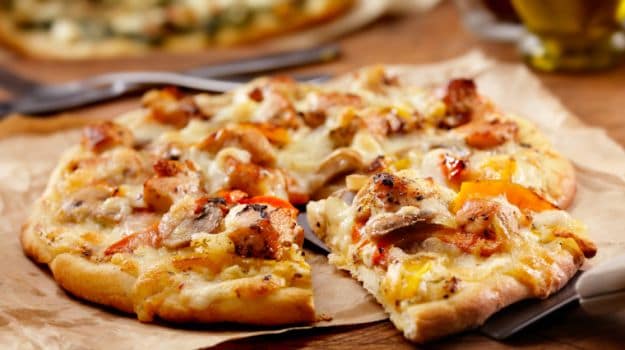 Want a dose of New York-style, thin crust pizza? This is the place to head to for a scrumptious treat. The wood fired pizzas come loaded with interesting toppings and you can customize it as well. They boost of making fresh hand-tossed pizzas bases, and you can choose from whole wheat, spinach, beetroot and garlic. Our favourites include Chelsea (with Italian sausage, chorizo and freh mushrooms) and Southwestern (with grilled chicken breasts, black beans and caramelised red onions). The pizzas are available in the sizes 12, 14 and 16 inches.
Where: Multiple outlets; Gurgaon and Saket
Price: Starts at Rs 425, excluding taxes
6. Pizza Express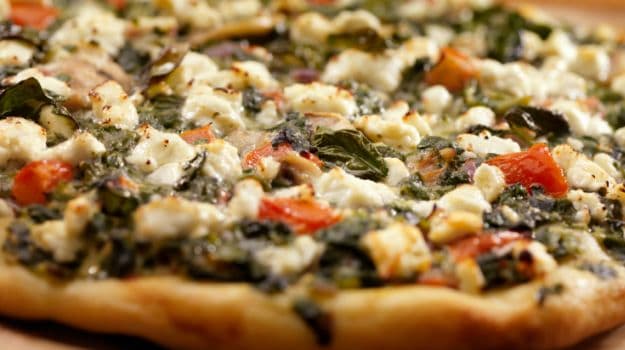 Made in true Italian style – bigger, thinner and crispier, the pizza base is what elevates these gourmet pizzas to another level. What we also love is the interesting range of toppings – some classic and some with Indian twists. The Apollo for example contains tandoori chicken teamed with mozzarella, green chillies and yellow peppers, and then there's also the Pollo Coriander Pesto with chicken tikka. For a spicy meaty treat, the Calabrese is a must, loaded with Italian sausages. And you can also customize your pizzas to your heart's content.
Where: Multiple outlets; Gurgaon and Vasant Kunj
Price: Starts at Rs 525, excluding taxes
7. New York Slice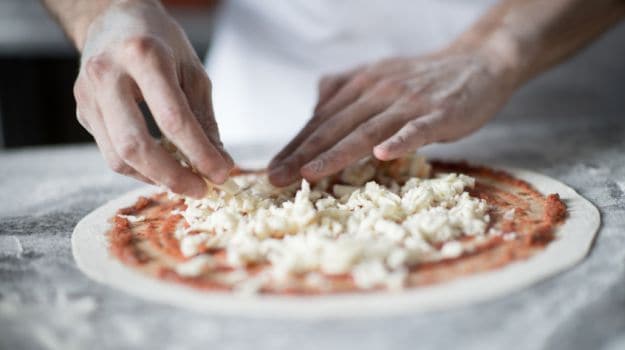 This pizzeria with its chain of outlets makes an earnest attempt to provide Big Apple inspired pizzas to the folks in Delhi and Gurgaon. While you wait for your order, you can also watch it being made fresh behind the counter. The pies are available in 9, 12 and 16 inches. But the best part is that you can also buy pizzas by the slice and try as many options as possible. Our top picks include United States of Bacon and Double Downtown (a cheesy delight).
Where: Multiple outlets
Price: Starts at Rs 229 for a whole pizza and Rs 79 for a slice, excluding taxes
8. La Piazza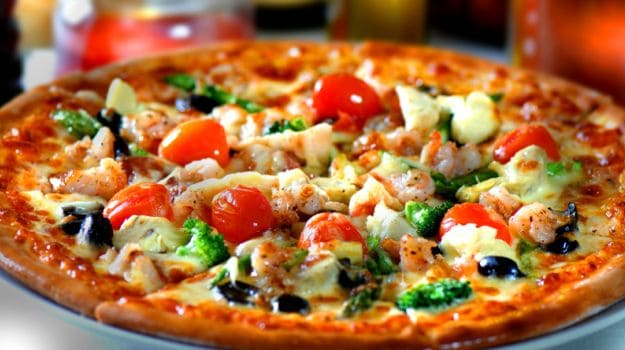 If your idea of enjoying pizzas is not just giving into gluttony but enjoying the experience with fine wine, then this award winning restaurant at Hyatt Regency is sure to impress you. The traditional wood-fired Italian pizzas are simple, rustic and flavours at their best. Our favourite here is the pizza with the same name as the restaurant, which comes topped with roasted garlic, goat's cheese, pesto sauce and sun-dried tomatoes.
Where: Hyatt Regency, Delhi Fire Station, Ring Road, Bhikaji Kama Place
Price: Starts at Rs 810, excluding taxes
9. Smokey's BBQ & Grill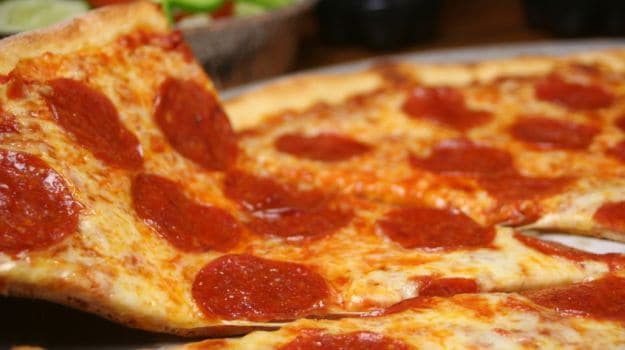 This pub is known for its scrumptious food, particularly burgers and steaks, but our favourite here are the pizzas. Wood-fired and thin crust, the options for toppings are limited but the ones available are done well. Our top picks are the Six Cheese and Andhra Style Tenderloin Pizza.
Where: Multiple outlets; Gurgaon, Khan Market and GK 2
Price: Starts at Rs 400, excluding taxes
10. Baking Bad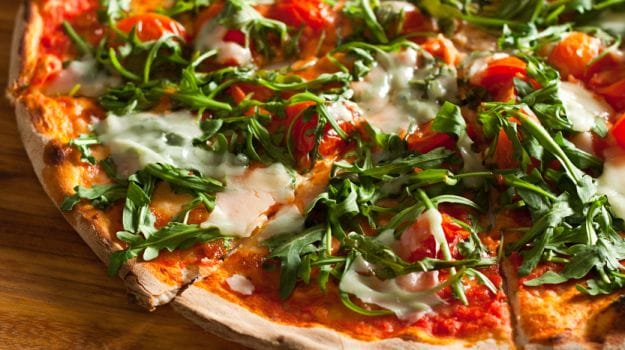 A pizzeria that's open till 4 AM, need we say anything more? That's right. This late night pizza delivery set-up calls itself the pizza lab, and lets you create your own pizzas. You can choose your choice of crust, sauce, cheese and toppings. The sizes available are 9.5, 13.5 and 17.5 inches and you can also order by slice. They also have an extensive and interesting range of gourmet pizzas on offer, if you are not that into customization. Our favourites include Something Fishy, Hot Spot and Honey! It's Bacon.
Where: GK 1
Price: Starts at Rs 255 for a whole pizza and Rs 110 for a slice, excluding taxes