India's first microbrewery, Doolally, opened in Pune in 2009. In its wake, it brought a slew of small-scale Indian craft beers to Mumbai, Bangalore and Gurgaon; everything from the traditional stout, IPA, porter etc. to more unusual varieties. And although the craft beer industry is still rather nascent, there's already a barrage of microbreweries offering the perfect quaff.
Mumbai's Love for Beer
Thirsty Mumbai residents were long used to making the drive to Pune for a taste of Doolally's craft beer. No more. In the last two years, a flood of microbreweries have contributed to raising the city's spirits, the very first one being
The Barking Deer
, a brewpub that launched in 2015 in Lower Parel. The first taste of craft beer this city had was the Barking Deer's robust India Pale Ale; the more gentle-flavoured wheat beer, Bombay Blonde; and the broodier, heavier Flying Pig Belgian Wit. Their long list of other beers from around the world is equally compelling.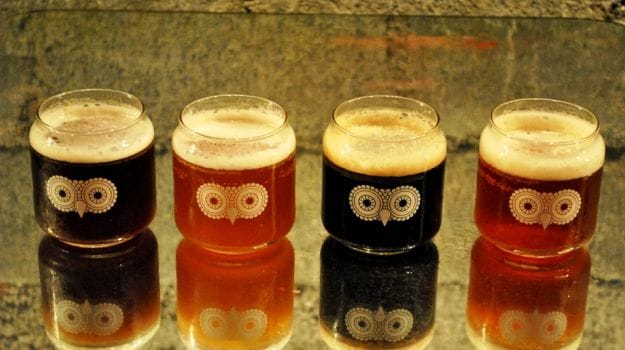 Assortment of brews from The White Owl
Not very far away from it,
The White Owl
's microbrewery serves up its own home brews – the caramel-flavoured, light Diablo; Halcyon, a wheat beer; the robust Shadow; and the boldest, bitterest brew, an American Pale Ale called Torpedo. Purists may shudder though since it is all served in gimmicky jam jars.
International Beer Day: How to Cook With Beer
Further north,
Doolally
itself has opened a microbrewery in tony Bandra, where it serves apple cider, wheat beer and oatmeal stout. Soak up all the alcohol with beer-battered Bombay duck and house fries. Andheri's
Brewbot
on the other hand, promises artisanal craft beer (chocolate oatmeal stout, anyone?) for which the owners have roped in Julie Baggett – an US-based brewer par excellence. Brewbot looks like a typical microbrewery with large, stainless steel brewing vats in the middle of the room.
Gateway Brewing Company
is the star of Dombivali, a nondescript Mumbai suburb. The passionate brewers behind GBC wrestled for years with bureaucracy in their attempt to open a microbrewery, but then finally gave up and decided to open a production brewery instead. Today, you can swig their creations at restaurants and bars across Mumbai, including the British Brewing Company, Woodside, Blue Frog, The Jamjar Diner, The Good Wife, Bombay Canteen, even the Cricket Club of India. Most popular is their German-style wheat beer, the playfully-named White Zen.
Technique Can Tell Beer's Country of Origin
Woodside also offers three artisanal brews from Pune's
Independence Brewing Company
; Belgian Wit Beer, Ryan Pale Ale and the most intriguing Four Grain Saison, crafted from barley, wheat, oats and rye. IBC has impressive credentials, having roped in Greg Koch, a brewer who pioneered the craft beer frenzy in the USA.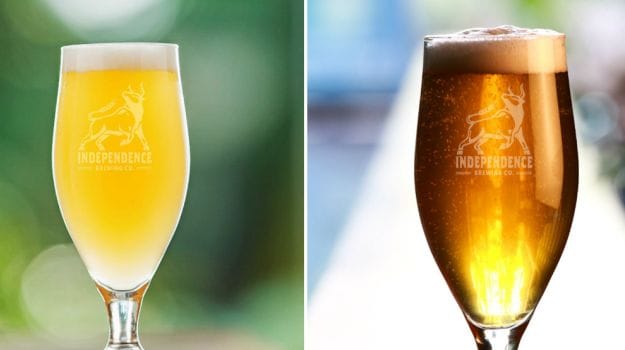 IBC's Belgian Wit and Four Grain Saison
Mumbai recently hosted two craft beer festivals and the year's not even over yet. According to Mr Rahul Mehra, co-owner of the Gateway Brewing Company, "Mumbai is one of the last metropolitan cities in India to be introduced to locally-brewed craft beers but the public seems to have taken to drinking these at a very fast rate. People seem to be taking to newer beer styles like Wheat Beers, Stouts, Porters and even IPA (which was actually made for India by the British)."
10 Things You Didn't Know About Beer
The Beer Craze in Gurgaon/Delhi
There are plenty of charming microbreweries in Gurgaon, one of the most popular being
Striker
for its in-house brews of pale Jazzy Light, Weiss Blues (made with wheat and barley malt), the dark Rock Beer and Country Pilsner Beer. But for the proper craft beer experience,
7 Degrees Brauhaus
' exotic German beer garden theme brings all the boys to its yard. 7 Degrees signifies the ideal temperature at which to drink beer and Brauhaus means Beer House. Patrons perched happily on bar stools get to ogle at Brauhaus's massive brewing vats as they suck down its wheat, light and dark beers together with a plate of juicy Bavarian-style sausages.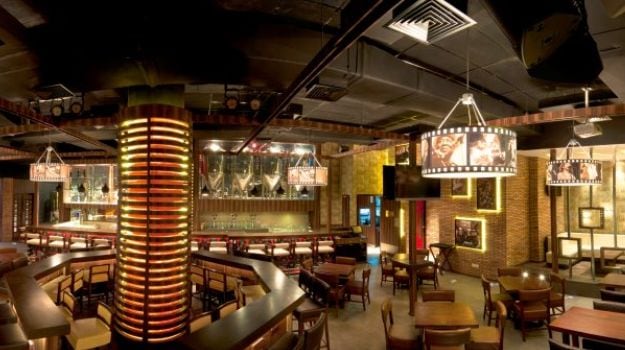 The interiors at Striker
At one of the newest kids on the block,
7 Barrel Brewpub
, you can choose between the malty Amber Red, full-bodied Premium Lager, the ever-popular wheat beer and the dusky, heavy-tasting Schwartzbier, all the while peering at live bands crooning to you (Indian Ocean recently performed here).
Cooking With Beer: Ale and Hearty Ideas
And then there's
Vapour
, which does the multi-cuisine thing but is far better known for their excellent home-brewed light, wheat, dark and premium beer and their beer cocktails.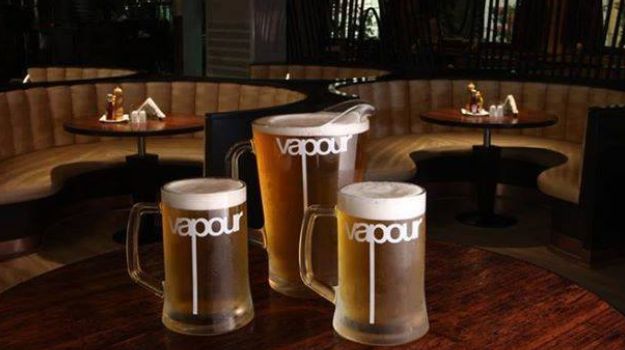 Home brews at Vapour
Rounding up the Gurgaon breweries is
Manhattan
, The Craft Brewery, famous for its home-brewed wheat beer, immense bar and its Thursday comedy nights. At Manhattan, you can pluck your dinner dish from almost any part of the world - the menu encompasses American, European, Indian and Lebanese food.
Craft Beer: a Guide for Beginners
The Original Pub City - Bangalore
Bangalore too, has been clasped by the firm grip of the microbrewery revolution, with 18 of them now dotting the city. Compared to all the metropolitan cities, it was among the first to popularise the concept. The granddaddy of the microbreweries,
The Biere Club
, ushered in the craft beer craze in 2010. TBC has plenty of traditional ales, stouts, lagers and wheat brews that it serves alongside light, flavourful Mediterranean food. But those with an experimental turn of mind can guzzle the Club's seasonal brews too - the mango beer is especially flavourful.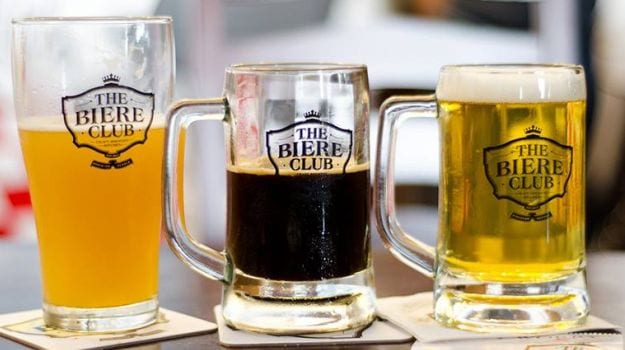 Home brews at The Biere Club
Soon after came
Toit
, a brewpub that upped the ante with its bouquet of options. Our favourite is the mango-flavoured, malty Aam Aadmi Ale, but we also love the dark, brooding taste of the Bengaluru Dark Knight – a muscular, full-bodied ale.
How To Make The Perfect Irish Coffee
Windmills Craftwork
is a microbrewery, a jazz bar, a restaurant and a library, all rolled into one hefty package. This is where Bangalore connoisseurs congregate for a lick of smooth jazz with a jorum of beer on the side. Traditional takes are offered (the all-pervasive IPA, stout, pale ales alongside inventive seasonal brews such as the Coconut Brown Ale, with notes of jaggery and coconut).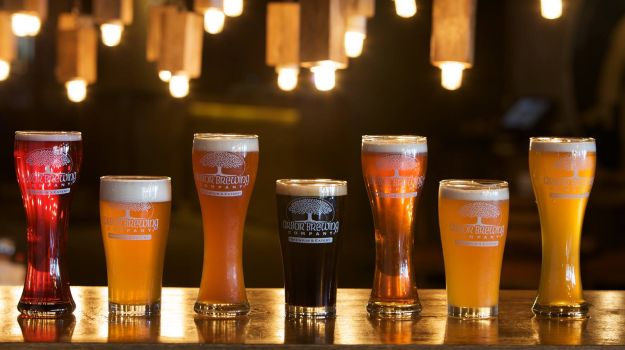 Arbor Brewing Company's range of beers
South Bangalore's
Brewsky
is spread out over two floors and serves six beers - all the usual suspects among which the Opperworld Hefeweizen, a light wheat beer with notes of banana and clove is the most popular. But perhaps the best craft beer is available at
Arbor
, a branch of the excellent Arbor Brewing Company in Michigan. Sink your teeth into ales of every kind - smoked, spiced, pale and Arbor's flagship brew Raging Elephant IPA; dark, chocolaty stout and crisp, honey-coloured pilsner. Arbor takes it beers seriously - its menu perfectly pairs each beer with the lip-smacking food.
Disclaimer:
The opinions expressed within this article are the personal opinions of the author. NDTV is not responsible for the accuracy, completeness, suitability, or validity of any information on this article. All information is provided on an as-is basis. The information, facts or opinions appearing in the article do not reflect the views of NDTV and NDTV does not assume any responsibility or liability for the same.