Image credits: nemosgarden.com
Imagine a bunch of balloon-like pods of different sizes anchored 20 feet under water, divers gallantly swimming in and around these pods sowing or picking what look like plants from a distance. Go closer and you'll see shelves on the inside of the domes covered with pots. Now, zoom in a bit and you'll find
basil
,
strawberries
, red cabbage and what not! Don't shrug in bewilderment. This isn't a scene from an upcoming sci-fi film, but a real life depiction of Nemo's Garden, an underwater garden 100 meters off the coast of Noli in Italy.Conceptualised by Sergio Gamberini and his team at Ocean Reef Group, Nemo's Garden was pitched as a new way to produce food in areas where the environment did not offer stable conditions for fruits and vegetables to
grow
in. The first experiment was conducted in 2012 with one biosphere or pod in which basil was grown. In 2013, the team expanded to two biospheres with a total capacity of 800 litres. The agrinauts could maneuver their way out of these unlike the one in 2012 and keep a more watchful eye on the produce. Tests showed that the basil grown underwater tastes pretty similar to the one grown on land and even had the same characteristics. In fact, Gamberini's wife used it to make pesto for a party at home.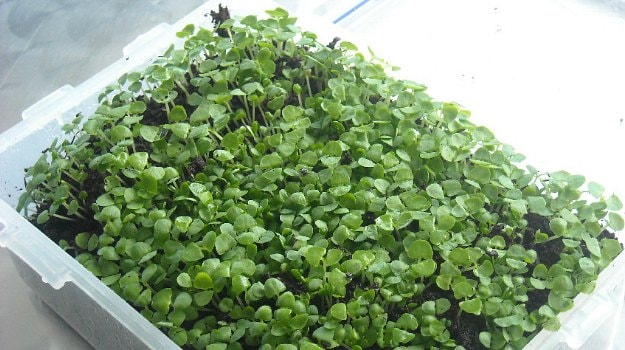 Image credits: nemosgarden.com
To help understand the engineering aspects of the experiment, in 2014 the team anchored a 2000 liter biosphere and used it to harbor around 15 different crops including strawberries, beans, garlic and lettuce. After 2 successful years of the experiment, the team plans to expand not just their knowledge of the underwater installation but even the physical, chemical and biological processes that occur under the sea.
The Science of Underwater Farming
Since the goal of Nemo's Garden project is to create an alternative system of agriculture, it's important to understand the challenges that the crops face on land: Lack of or an inconsistent supply of water resources, degradation of land, climate change, toxic emissions, pesticides, nutrient runoff and host of other problems.There are geographical areas where factors like these inhibit growth of basic vegetables and fruits, which is why the concept of underwater farming makes so much sense. What the Ocean Reef team has done is created a greenhouse of sorts: a structure with walls and roof made of polymeric films in which plants are grown in regulated climatic conditions. The temperature of seawater is consistent and not deeply affected by the climatic changes occurring on earth, excepting for what concerns the seawater temperature. The biosphere also allows sunlight to enter and keeps it from leaving the structure, thereby giving the plants inside a warmer, more nurturing climate to grow in. Nemo's Garden is also able to take complete advantage of high humidity and exceptionally high carbon dioxide concentrations that cause plants to grow significantly faster than they do on land.The team at Ocean Reef installed web cameras and sensor panels in their biospheres allowing real time access to anyone with an internet connection. This also allows scientists to monitor what's going on down there, track oxygen and carbon dioxide levels without actually having to frequently dive in.Gamberini and his team believes in the potential of Nemo's Garden but are yet to completely understand its feasibility in terms of size, logistics and economics.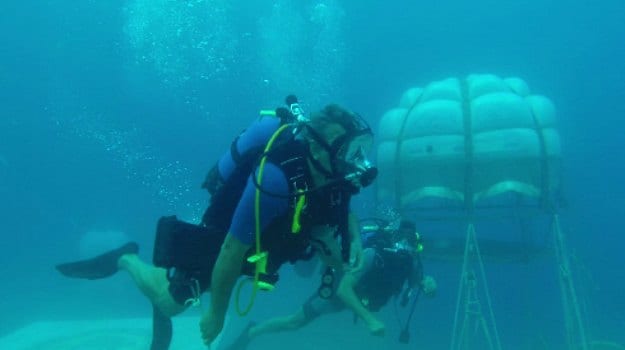 Image credits: nemosgarden.com
According to the Nemo Garden's website, "Research programs in collaboration with several private and public entities are in progress to create a multidisciplinary network able to keep into account the variety of research fields involved in the Nemo's Garden. Dedicated experiments on-site and well-focused investigations will help us to improve the project, even if the matter is creating day-by-day new questions and new challenges to catch!"