Yowk, an egg which simply needs hot water poured over it before it's ready to eat with your toast, has arrived. How on earth did it make it to market – and are there any convenience supermarket foods that are really worth the money?
There was a collective groan when we learned this week that there will soon be a near-ready-to-eat, soft-boiled egg on British supermarket shelves. Just pour boiling water over the top and wait for five minutes before dipping in the accompanying breadsticks. Snack nirvana. Surely the Yowk egg represents the kind of convenience food that should never make it to market? And a quick internet search shows that the arrival of easy dippy eggs have been mooted for at least 18 months, probably longer. I can't believe many people were holding their breath for this one.
The Yowk egg takes "just five minutes" to cook, once you pour boiling water over it. Which for anyone with a hob as well as a kettle, means this convenience snack actually takes longer than simply dropping an egg into a saucepan of boiling water for the requisite amount of time (four minutes and 45 seconds is my tried-and-tested magic number).
So where does the convenience come in? I can't help but think that if you're craving a nutritious snack, but are in an office with limited cooking facilities, then you should just grab an apple. However, here are other "convenience" ideas out there that confuse me – and one or two good ones.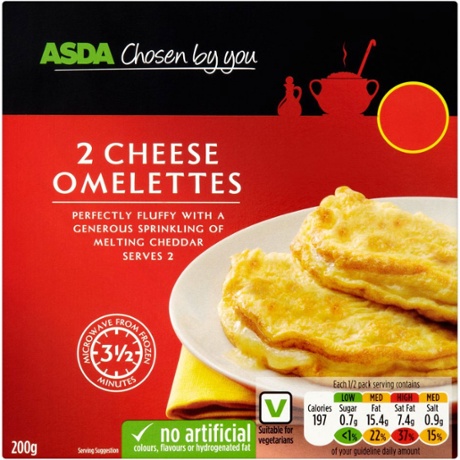 Cost: 85p.
Conventional alternative: 85p for three free-range eggs and plenty of cheese.
Convenience: Even the slowest and most particular cooks on Saturday Kitchen have cooked, eaten and washed up before the three-and-a-half minutes that it takes to nuke these are up.
Overall verdict: Deep, saddened sigh. Let's not even think about which version might taste better, much less the happiness of the egg providers.
Cost: £1.98 per 100g.
Conventional alternative: 70p for one 100g garlic bulb.
Convenience: Well, I suppose if you're paranoid about garlicky fingers from removing a paper thin skin from garlic. But have you not seen how fun and quick peeling garlic can be? One bulb in under 10 seconds. That's quite a mark-up there, Waitrose.
Overall verdict: Only for the unremittingly lazy. Go to the back of the class.
Cost: 99p for a 95g tin.
Conventional alternative: 80p for the same amount of fresh sardine and tomato puree.
Convenience: The options here are either unpeeling the top from a tin and tipping your saucey sardines out, or filleting a few fresh fish, grilling them and then knocking up a quick tomato sauce on the side.
Overall verdict: along with filled pasta, tinned sardines are quite possibly the best example of truly convenient, time saving and economic food. Superb on toast (assuming a trip to the toaster isn't too much effort).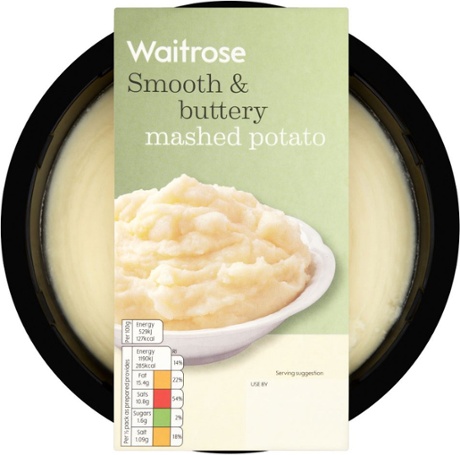 Cost: Works out as £3.60 per kg.
Conventional alternative: A bag of Maris Pipers costs 86p a kilo. You'd have to put in a fair amount of butter to make up the difference.
Convenience: Between six minutes and 20 minutes to reheat, depending on whether you're a microwave or an oven person. The microwave time is certainly quicker than cooking from fresh.
Overall verdict: Oh, come on. The alternative is to peel and dice a few spuds, bring to the boil, simmer for 15 minutes and mash. It's not exactly like making puff pastry.
Cost: £8 per kilo.
Conventional alternative: £6.25 per kg for ungrated.
Convenience: Grab grated cheese from the bag, rather than drag a block over a grater for a couple of seconds.
Overall verdict: Only makes sense if cooking for huge numbers of people, and so the grating really does become time consuming.
Cost: Varies, but every supermarket offers them, and peeled is invariably more expensive than the proper stuff.
Convenience: Bags of shredded vegetables for stir-frying reduce preparation time massively and also ensure you can have a variety of ingredients without buying more veg than you'll get through that week. Tropical-fruit snack packs, while relatively expensive compared to the whole fruit, are a great thing for the office worker too.
Overall verdict: Thumbs up, I suppose, for the stir-fry packs and tropical fruits. But peeled and diced root vegetables? Pre-wedged apples? Carrots in greying and wrinkled batons? They cost more, taste worse, and are less nutritious than if you spend 20 seconds peeling them yourself. If you're trying to up your carrot consumption at work, buy a desk peeler and leave the batons on the shelf.
Which ready meals and convenience foods bother you? And what do you rely on?
Top Photo: Yowk … inconvenience food? PR Photograph: PR