"Can't wait to get home and eat a cheese sandwich tucked in my bed," exclaimed a guy gleefully.
"Ugh, how can you eat where you sleep? Tiny, invisible crumbs everywhere," replied a girl, visibly disgusted.
People hardly do dinner the same way. Some go solo with the television blaring while others make a rule for families to sit together every night. Miho Aikawa, a photographer based in Tokyo and New York wanted to capture exactly this - the wide dissimilarities and the close resemblances between the dining styles of people in New York.
She says, "most of the people who know the importance of eating habits care about the quality of food and nutrition. However, even if the food provides the necessary nutrition, that alone is not enough. The question is, what is a quality dinner? Having dinner is not just about eating food, but portrays many aspects of our lives."
A study in Public Health Nutrition reveals an interesting trend: Eating as a primary activity declined in the past 30 years. On the other hand, eating as a secondary activity rose dramatically in the past 30 years.
She continues to say, "I have no intent on saying that having dinner with a cell phone is bad and eating alone is sad. My idea of this project is to propose what dinner is to people, how different it can be for everyone, and present the diversity found in this everyday act. When you enjoy mealtimes, you're more likely to eat better. Needless to say, how people enjoy the many aspects of our lives, including dinner time, depends solely on that person."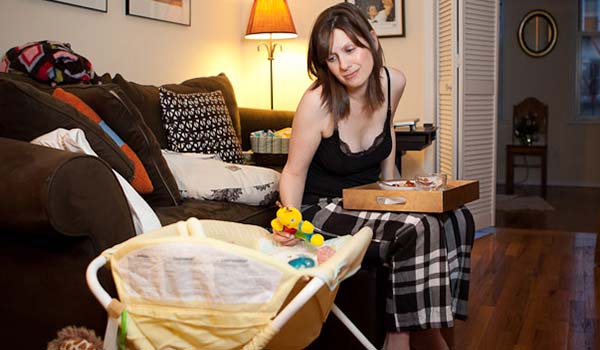 Kristy May has quick dinner, dandling her one month newborn baby. Age: 32 Time: 4:50 PM Location: Greenpoint, Brooklyn.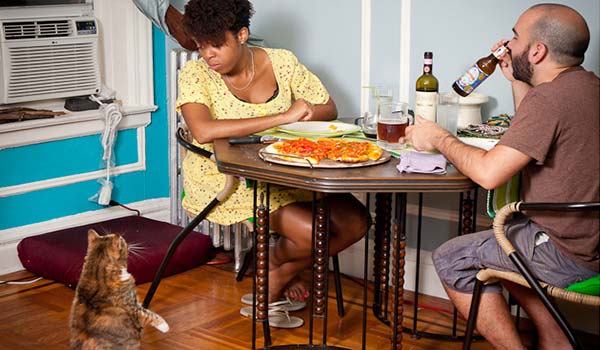 Kimberly and Gregory, wife and husband often stay late at offices on weekdays but try to have dinner together as much as possible, usually accompanied by their cat, Tigerlilli. Age: Kimberly 31, Gregory 31 Time: 9:06 PM Location: Inwood, New York.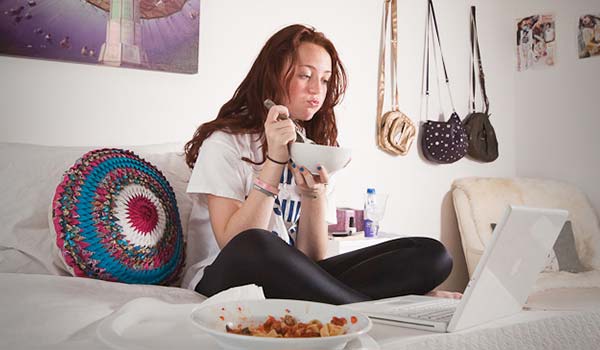 Oona Wagner Oona, a 13-year old girl who lives with her father and her stepmother, has her favorite Italian food prepared by her father while watching a TV show on her bed. Age: 13 Time: 8:21 PM Location: Carroll Gardens, Brooklyn.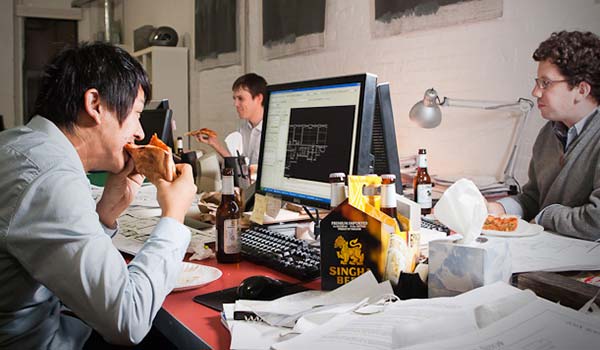 Yohan Kim Yohan, an architect, worked over time with his coworkers. They had pizza and beer on the desk. Age: 28 Time: 7:27 PM Location: Dumbo, Brooklyn.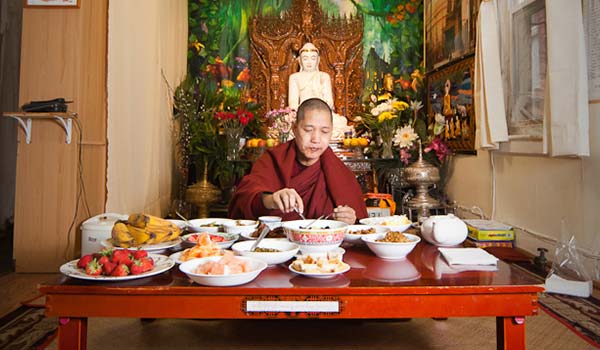 U Pa Mok Kha is a monk from Myanmar who cannot eat after 12 noon. Local people bring him food and after he is done, he shares the rest of the food with them. Age: 55 Time: 11:17 AM Location: Jackson Heights, Queen.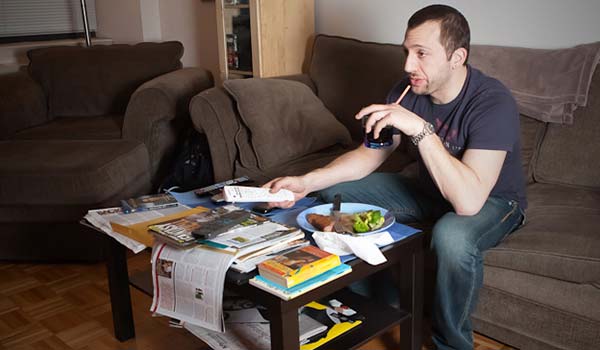 Seth Rabinowitz Seth, an aspiring actor, eats dinner at home watching TV. He tries to eat at 6 PM as it reminds him of his childhood. Age:30 Time: 6:51 PM Location: Midtown West, New York.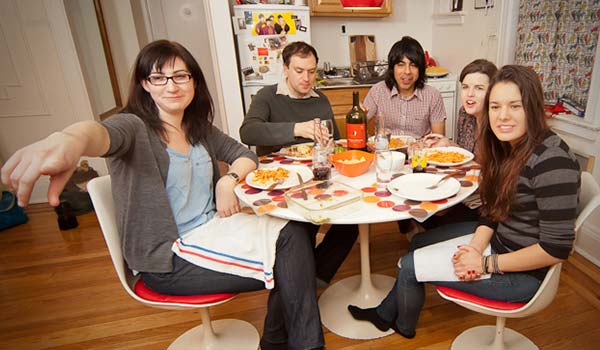 Carlos Ledesma Carlos, from Algentina usually enjoys Sunday night with his friends watching TV show on HBO at home. Age: 31, Time: 8:06 PM Location: Astoria, Queens.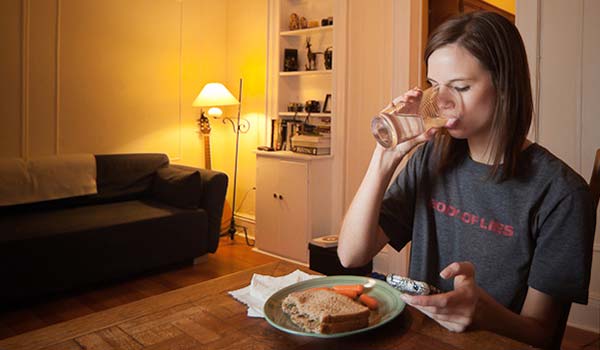 Chelsea Olson, a model concentrates on her food while reviewing her busy day. Age: 20 Time: 8:13 PM Location: Windsor Terrace, Brooklyn.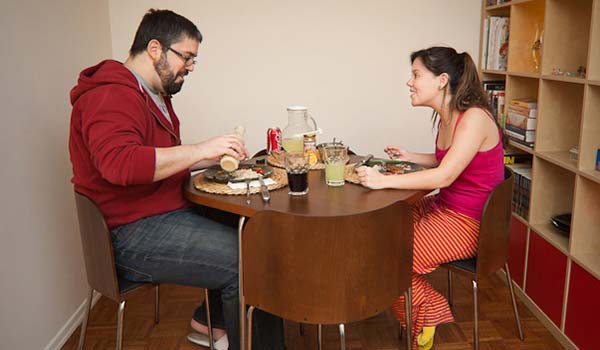 Giselle Behrens and Fernando Mendoza, wife and husband both from Venezuela enjoy one another's company over a home-cooked meal prepared by Fernando. Age: Giselle 26, Fernando 27 Time: 9:30 PM Location: Midtown West, New York.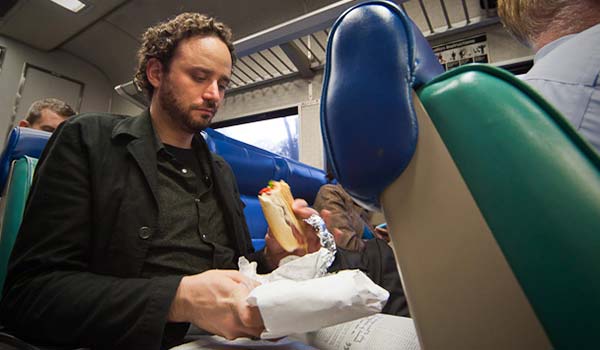 Matthew Vogel relaxes with a sandwich and a beer during the evening commute to Pleasantville, NY. Age: 30 Time: 6:59 PM Location: White Plains, Harlem Line.
Information and source: Miho Aikawa