Mumbai's Cuisine: Borrowed & Reinvented
Reshmy Kurian | Updated: November 28, 2014 10:55 IST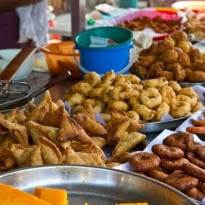 It's now well over a decade since I moved to Mumbai. But I still clearly remember my first glimpse of Mumbai way before that. I was a young, excitable and a curious 20-something design student on the threshold of adult life. The train from Ahmedabad chugged me into Mumbai and I stood mesmerized by the sheer mad energy that was this city.

Tall buildings, cars, people, buses all rushed someplace urgent and important. Larger than life superstars gazed down from massive hoardings with smiles lighting up their eyes as they promised, what then seemed to me, a marvellous life in this crazy, passionate and generous city of dreams. Hawkers sold everything from jewellery to vegetables, prayer books to bags, dried fish to soaps. The salty smell of the sea and blaring Bollywood music from neon lit auto rickshaws: What an incredible, beguiling, heady mosaic of mixtures this city was. I decided this was the only place to be in.

I spent my formative years in Delhi so it was wasn't surprising that it took me a few years to come around to Mumbai's style of food. My initial simplistic measure for food was to check if the dishes measured up to the ones I had loved and grown up with in Delhi. But looking for precise renditions of familiar food is most often an unfruitful task in Mumbai. The dahi (yogurt) in the Papdi Chaat has a sweet thrust influenced by the neighbouring state of Gujarat. Dahi Vada is tempered with mustard seeds and curry leaves like it's done in the south.
The Butter chicken has a caramelized tinge of browned onions and is often redolent with coriander powder (the signature spice of Maharashtra). The Aloo Paranthas, though tasty, are distinctly different because of the addition of turmeric and garlic. Sambhar - to my mind it should be thick and spicy. But instead it's sweet and thin. And a plate of Chole Bhature consists of plain channa with fluffy puris masquerading as what should have been a fluffy, oblong, pale and leavened bread. Disappointed, disgruntled and downright upset, I decided that Mumbai just didn't know how to get its food right.

It took time for me to look beyond the obvious and see what simmered beneath the surface. Look close and you soon start to see the slumbering history behind this city that's frantic to keep up with the world. Mumbai is made up of myriad cultures and subcultures: The old Mumbai of the Kolis, named after Mumba Devi, that you encounter in the juicy plump crustaceans (ocean animals like lobster, crabs, etc.) of the Versova seafood festival. The Mumbai of the Portuguese that is reflected in the crusty Brun Pav of its old colonial bakeries and divine Salli in the Parsi dishes. The Mumbai of the British East India Company who got the city from the English King Charles II who had in turn received it as a part of dowry when the Portuguese King's daughter married him - the Mumbai that you can see in the much coveted East Indian bottle masala found in the cold storages of Bandra.

People who have been drawn to Mumbai for centuries now are all a part of its food, life and quintessential character. After spending more than a decade here, I've come to understand what makes Mumbai so special - its mind boggling mix of mingling cultures. It is believed that Gujaratis came to setup and run cotton mills, the Bohris and other Muslim communities of Gujarat came for trade, Parsis who had originally settled around Navsari in Gujarat arrived from Iran, many South Indians came to work in the mills, Punjabis who dominate the film industry and the unending stream of people from around the country who are drawn to the opportunities in stock exchange, media and advertising, and the endless world of possibilities that is Mumbai.

What I did not understand initially was that while it's the authenticity of their strong ethnic roots that gave other cities their character (Calcutta belonged to the Bengalis, Chennai to the Tamils, Delhi got its dominant flavour from Punjabis, UP-ites and Haryanvis) Mumbai could be characterized by its vibrancy, welcoming attitude and openness.

This is also exactly what makes the food of Mumbai special. Konkani, Mainland Maharashtrian, Goan, Gujarati, Sindhi, Parsi, Bengali, Punjabi, Malayalee, Tamil, Bohri Muslim, Koli and many more cuisines come together to give you dishes that started somewhere, came here and became localized to Mumbai.

From major state cuisines to slivers of subcultures that aren't even noticeable in other parts of the country, each own a noticeable slice of the food culture in Mumbai. And just the way the defining aspect of Mumbai is not just the presence of the myriad cultures but the way they merged, the food served here ranges from the uniquely authentic (mostly native) dishes to recipes from other regions of the country that often blur boundaries and emerge with a new slot-challenging characteristic of their own.

The Delhi brought up South Indian in me discovered Mumbai's unique magic that allows you to remain yourself even as you take on the open, earth coloured shade that is the warm pragmatism of this city. With food on the other hand, flavours, spices and textures in Mumbai bleed through the divide to surface with a new definition, a Mumbaiah identity of their own. The way Mumbai's Gujaratis molded chaat to create Sev Puri and Dahi Puri. The way Bhel Puri is part chaat from Uttar Pradesh (UP) and part Jhaal Mudi/Moodi from Kolkata but a whole other dish of its own. The way Farsan shaped Bhel meets Indo-Chinese sauces all over the city in the questionable but sparkly Chinese Bhel.

Slowly and steadily, when I wasn't looking, the food of Mumbai got under my skin just the way Mumbai had gotten into my blood. It took a visit by one of my colleagues from the United States for me to realize that there was so much I had started loving about the food of Mumbai.

This week, as I thought of what is Mumbaiah cuisine to me and asked friends to make their pick, I drilled down to this. What's most exciting about Mumbai's food is not the 'authentic' fare from other states. It's the native, borrowed, interpreted, re-interpreted, refurbished versions that collectively create the landscape of Mumbaiah cuisine. After much deliberation, I arrived at the conclusion that to do justice to what Mumbai can serve you, you need at least 10 meals in this city. 10 meals that will take you through the lanes of Mumbai, in to the heart of its people, culture and past. 10 meals that you will have to understand what food means to Mumbaikars.

I know you will move past all kinds of people who spill into the narrow, dingy streets of Mumbai to get to these meals. From the Nawwari sari wearing, fish basket lunging fisher women out to sell the catch of the day to the designer suit wearing corporate men, stepping into their imported sedans; vegetable shopping housewives to the poppy micro-mini shorts wearing hipsters on their way to the next nightspot.

As you make your way to your destination, you will be reminded that this is a land of eclectic mixtures. And while you savour the food that is served here, eat the chaat that is laced with sweet dahi and remember the biggest lesson that Mumbai teaches you is to go beyond fixed notions of origin, ownership and authenticity and accept that the mingling of culture, food, flavours, life and spices. That's not corrosion, that's growth.

Coming Soon: 10 Meals You Must Eat in Mumbai

Disclaimer: The opinions expressed within this article are the personal opinions of the author. NDTV is not responsible for the accuracy, completeness, suitability, or validity of any information on this article. All information is provided on an as-is basis. The information, facts or opinions appearing in the article do not reflect the views of NDTV and NDTV does not assume any responsibility or liability for the same.