Mystical Himachal: What to Eat in Mcleod Ganj
Written by Sparshita Saxena | Updated: June 06, 2017 16:41 IST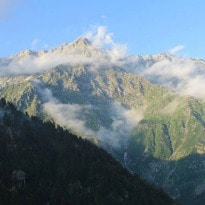 Hill stations are the perfect getaways for those wanting to escape the blazing heat as well as the city crowd. The serene landscapes and the calm breeze create a soothing environment to unwind and relax. Amidst those magnificent mountains, you'll find nature at its best.

The journey to Mcleod Ganj was a magical one. I was welcomed by a crimson sky which the setting sun created. Though I was thirsty, sleepy, tired and in need of good food, on reaching our destination I felt a serene sense of satisfaction.

Finding a hotel isn't a problem, the place thrives with boutique as well as budget hotels. Gastronomically, Mcleod Ganj bristles with some great local food havens. My food adventure started with Jogiwara and Bhagsu road. With a string of local eateries and their beaming hosts, these places have a lot of offer. From fried sausages, stuffed omelettes to mouthwatering rolls, soups, and authentic thukpas, you'll find the most authentic tastes here. You can pamper your taste buds without shelling out much from your pocket.

You can hire a motorbike to explore the town or go on a trekking adventure to Triund Hill. Popular for its breathtaking view, the trek to Triund is about 9 kilometers from Mcleod Ganj. The Tibetan and Chinese monasteries are popular spiritual attractions. Stroll through the Tibetan markets for traditional clothes and chunky jewellery.
Restaurants and cafes: Apart from the local eating joints, the food at these restaurants particularly impressed me.
Nick's Italian kitchen and Jimmy's Italian kitchen serves some great pizzas, lasagna and gnocchi. The authentic Bhutanese and Tibetan food at Tibet Kitchen is definitely worth digging into. Lung Ta serves some of the finest Japanese delicacies with a great ambience. At Lung Ta, don't forget to try their sushi rolls, mizo soup and steamed fish. For desi fare, head to Taste of India. Namgyal Cafe, Shiva cafe and Mclio restaurant are some of popular places that you must visit.(Watch Rocky and Mayur visit some of the best restaurants and cafes in Mcleodganj)

Ate there, now cook that!

Some of the few things that will get etched in your mind forever are the inexplicable expanse of nature's bounty and the unlimited variety encompassed in the food served there. Revisiting those magnificent hills won't be possible all the time but you can surely recreate the Himachali flavours on your platter as and when you please.

Here's how to recreate the taste of 'pahaadi khaana' in your very own kitchens. Learn from our specialist chefs.

Channa Madra
Recipe by Chef Avneet, Hotel Cecil Oberoi, Himachal Pradesh

Chamba-Style Fried Fish
Recipe by Aditya Bal

Chha Gosht
Recipe by Chef Swati, Oberoi Wild Flower Hall, Himachal Pradesh
Himachali Tawa Murgh
Recipe by Aditya Bal

Babru
Recipe by Chef Maansingh, Woodville Palace Resort, Himachal Pradesh

Home to Dalai Lama, Mcleod Ganj offers you a mix of spirituality, adventure and great food but above all a calming escapade in the lap of nature.