It's one of the great American success stories - a guy escapes communist Vietnam in 1979 on a ship called Huey Fong, arrives in the U.S. as a refugee, and builds an empire from a hot sauce recipe. But how did that hot sauce become such a cult classic? And how does one use it?(
One of The World's Spiciest Chilli Grows in India!
)Sriracha, pronounced see-rach-ah, is a type of chilli sauce said to originate in Thailand, named after the coastal city of Si Racha. In Thailand, the sauce is a little sweeter and runnier, and eaten mainly as a dipping sauce with, for example, spring rolls. In Vietnam, sriracha is popular, but a little hotter and thicker in consistency -often eaten in accompaniment with soupy pho noodles.(
Feeling Hot Hot Hot? Learn to Love Chillies
)
In the U.S., Huy Fong founder David Tran, began his humble empire in Los Angeles' Chinatown - creating his own logo from his Chinese birth year sign, the rooster. He began by hand-painting his logo onto a blue van and delivered his hot sauces to local Asian restaurants in the area. Today, Huy Fong's rooster branded bottles of red sriracha hot sauce, with the green top, are so popular in the U.S. that references to sriracha as 'rooster sauce' are not uncommon.(The Hot-Sauce Trend: Is Our Addiction to Heat Bad for our Palates?)
But it's important to note that Huy Fong is not the originator of sriracha - it is simply the creator of a cult classic.
What is Sriracha?
Sriracha is made from a paste of red chilli peppers, distilled vinegar, garlic, sugar, and salt - and blended into a sauce that resembles ketchup in some manner. One might even mistake it for the dipping sauce that accompanies momo dishes in India.(The Chilli Pepper: Hot for You?)
There are several variations of home-made sriracha recipes doing the rounds on the internet, discussing whether adding red jalapeno peppers or red serrano peppers gives the sauce a better flavour.(The Next Best Ingredient for Weight Loss: Chilli)
Here's a sriracha recipe you can try at home: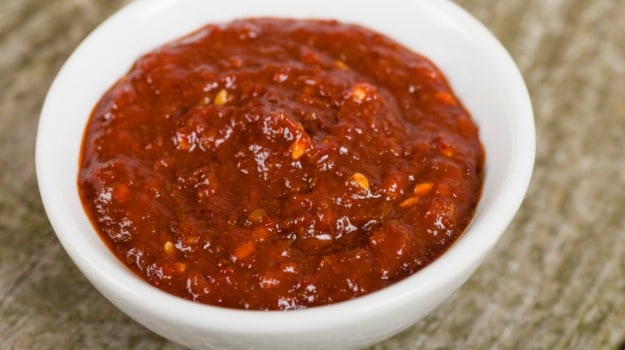 Makes approximately 2 jars
1 kg red chilli peppers
4 cloves garlic
1 cup distilled white vinegar (or you can experiment with apple cider vinegar for a healthier option)
2 Tbsp sugar (demerara sugar works best)
1 tsp sea salt
2-3 drops fish sauce (optional)
Method:
1. Chop the chilli peppers, crush the garlic and mix them in a bowl.
2. Add the sea salt and pour in the vinegar till it just covers the top of the mixture. Leave to ferment overnight.
3. Add sugar and fish sauce, then put the mixture into a pot and stir it together on low heat for about 5-6 minutes. Let it cool.
4. Put it into the blender (or you can use a hand blender) and crush well. Strain the sauce into a jar and store in the refrigerator.
Note: Don't keep this fresh version longer than a month.
The Touch of Sriracha
In the U.S. you can find just about anything with a bit of rooster sauce on the side. The American chain of Subway offers a 'sriracha chicken melt' sandwich; and a number of brands are using it in potato chips - PepsiCo's Lays has 'sriracha potato chips', Diamond Brand's Kettle Chips has their own version, and Procter and Gamble has packaged up its Pringles with Huy Fong's sriracha flavour. It's been added to chicken wings, popcorns, tacos, stirred into mashed potatoes, and even added to oatmeal, among other things.
But eating sriracha doesn't have to be entirely a junk food binge. Some recipes show sriracha stuffed mushrooms as a healthy appetiser for parties, added to tuna-lettuce salads for a spark of flavour, and cooked with rice, tofu, and broccoli for a simple but healthy home meal.
Sriacha added to guacamole along with crushed soy beans and served with crackers is another way to utilise the sauce as a party food flavour. And one way of surprising guests is by mixing it with thick Himalayan crystal salt - spread it out on a try and bake it in the oven for an hour or so. The salt can be crushed down a little and used to rim glasses for cocktails or mocktails, tossed into popcorn or chips, or sprinkled into salads, soups, and sandwiches.Disclaimer:
The opinions expressed within this article are the personal opinions of the author. NDTV is not responsible for the accuracy, completeness, suitability, or validity of any information on this article. All information is provided on an as-is basis. The information, facts or opinions appearing in the article do not reflect the views of NDTV and NDTV does not assume any responsibility or liability for the same.