Story Progress
Back to home
Aamti Recipe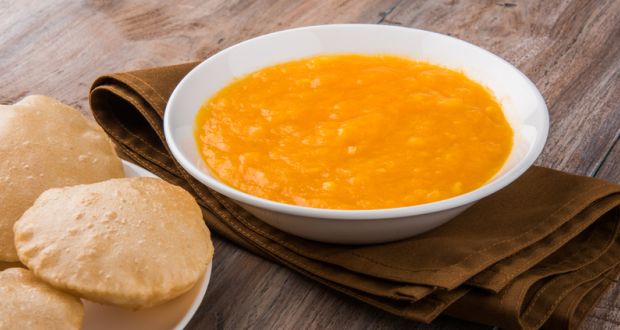 How to make Aamti
About Aamti: An appetizing Maharashtrian style dal made with yellow gram dal. Tempered with chillies, garam masala, curry leaves and mustard seeds.

Ingredients of Aamti
1/2 cup yellow gram dal
1 stalk curry leaves
1 bay leaf
3 cloves
2 green chillies
1/2 Tbsp coriander finely chopped
1 tsp black maharashtrian masala (use paav bhaji masala or goda masala)
1/4 tsp garam masala
1/4 tsp coriander seed
Turmeric powder
Salt to taste
6-7 kokams soaked in 1/2 cup water
4 cups water
1 Tbsp oil or ghee
1/2 tsp each cumin & mustard seeds
1.
1. Wash and soak daal for 15 minutes. Then pressure cook it till very soft (4 whistles).
2.
2. Cool cooker and remove drain water from daal and save.
3.
3. Knead the kokams between fingers. Then press out and remove.
4.
4. Keep the water aside. Then grind daal to a fine paste either on stone or in a mixie.
5.
5. Mix with water and residual water of daal. Blend well till smooth.
6.
6. Heat oil in a deep saucepan. Add seeds, curry leaves, allow to splutter.
7.
7. Add slit chillies, cloves, bay leaf, and saute for one minute.
8.
8. Add kokam water. Make paste of masalas in 1/4 cup water.
9.
9. Add paste, fry further for one minute. Add daal, bring to a boil and simmer for 8-10 minutes.
10.
10. Garnish with chopped coriander and serve hot.