Story Progress
Back to home
Allahabadi Tehri Recipe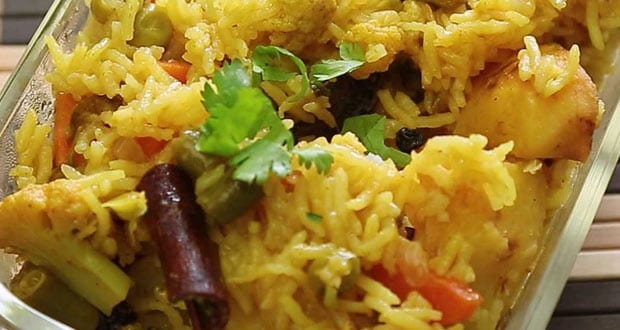 How To Make Allahabadi Tehri
NDTV Food
About Allahabadi Tehri Recipe: Popular in Allahabad, this tehri is very easy to cook. A healthy bowl full of vegetables is a perfect way to up the nutrient game for kids.

Ingredients of Allahabadi Tehri
2 Tbsp Mustard Oil
2 nos Potatoes
2 nos Bay Leaves
1 Cinnamon Stick
4 nos Black Peppercorns
4 nos Cloves
2 nos Black Cardamoms
5 nos Green Cardamoms
1 Onion, chopped
1 tsp Ginger, chopped
1 tsp Garlic , chopped
2 nos Green Chillis, chopped
1 tsp Cumin Powder
1 tsp Coriander Powder
1 tsp Turmeric Powder
1/2 tsp Red Chilli Powder
1/4 tsp Hing Water
1/2 tsp Salt
1 Carrot, chopped
1 cup Cauliflower, chopped
2 tsp Beans , chopped
2 tsp Peas
2 tbsp Curd
2 tsp Coriander Leaves
1 cup Rice
2 cups Vegetable Stock
1.
In a heavy bottomed pan heat mustard oil to fry potatoes till golden brown. 2.
Now take oil in a pressure cooker and add bay leaves, cinnamon stick, black peppercorns, cloves along with black and green cardamoms. 3.
Saute for 2-3 minutes on a low flame and then add chopped onion to it and cook for a while. 4.
Add ginger, garlic and green chillies and stir for about 2-3 minutes for the flavour to come out. 5.
Now add the spices such as cumin powder, coriander powder, turmeric powder and red chilli powder, followed by hing water and salt. Mix well. 6.
Add vegetables like carrot, cauliflower, beans, peas and fried potatoes. Mix all the ingredients well and let all the spices cook for 4-5 minutes along with the vegetables. 7.
Add curd, coriander leaves and rice. Stir lightly so as to mix the rice with all the ingredients thoroughly. 8.
At last add the vegetable stock and stir thoroughly. 9.
Now pressure cook this Tehri for 1 whistle. 10.
Switch off the gas and pour out the rice tehri in a serving bowl and serve hot, garnished with fresh coriander leaves. Watch the step by step recipe of Allahabadi Tehri here: