Story Progress
Back to home
Aloo ka Parantha (Vrat) Recipe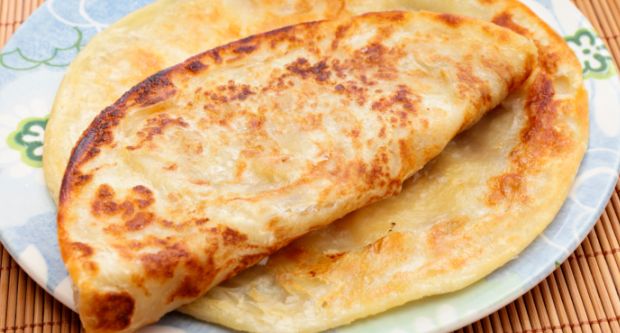 Stuffed Indian bread made with buckwheat flour, rock salt and potatoes especially for Navratri.

Ingredients of Aloo ka Parantha (Vrat)
2 cups kootoo ka atta
1 large potato, boiled, peeled and mashed smooth
1 tsp senda namak (rock salt)
Ghee for frying the paranthas
Dry flour for dusting
For the filling:
Mashed potatoes, with senda namak (rock salt) and chilli powder mixed into it, along with lemon juice, hara dhania (coriander leaves) and green chillies if desired.
1.
Knead dough as for parantha. Make flat rounds and pinch the edges to about 1/3 way towards the centre, to form a sort of a cup.
2.
Take some filling, and place in the centre of the 'cup'. Wet the edges and bring together to enclose the filling. Pinch to seal.
3.
Roll out as thinly as you can without tearing.
4.
Fry the paranthas crisp and darker on both sides.