Story Progress
Back to home
Aloo ka Paratha Recipe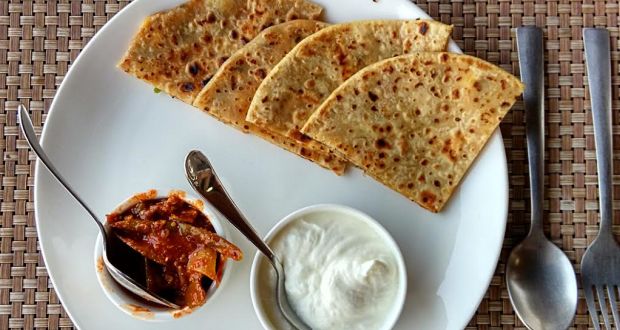 How to make Aloo ka Paratha
About Aloo Ka Paratha | Aloo Paratha Recipe: The undisputed king of breakfast, lunch or brunch across the length and breadth of India, Aloo ka Paratha is a delicious shallow fried Indian bread. Potatoes mashed along with chilies and spices, stuffed inside the flour dough. It is a staple food in North India but is served all across the country especially at roadside dhabas. This recipe of Aloo Paratha (Potato Paratha) is very easy to cook mainly because all the ingredients are readily available in our homes.
Ingredients of Aloo Ka Paratha (Aalu Paratha) recipe: This recipe of Aloo Paratha is made from Buckwheat flour and rock salt, which is an essential during the fast instead of using wheat flour and normal salt. So you can make this recipe during the fasting period as well apart from normal days for lunch or a heavy brunch. The green chilli adds the spicy bit to the paratha,
Best Way to Enjoy Aloo Ka Paratha | How to Serve Aalu Paratha: The hot and piping Aloo ka Paratha with butter melting on top can be accompanied along with plain yogurt or tangy pickle of your choice. You can also accompany it with green chutney or may be a dry side dish of your choice.

Ingredients of Aloo ka Paratha
2 Cups Kuttu ka Atta
1 Large Potato (peeled, mashed smooth), boiled
1 tsp Rock salt
Too knead Water
For frying Ghee
Fpr dusting Dry flour
1 Tbsp Coriander leaves
To taste Green chillies
For the filling:
1.
Mix together the mashed potatoes, rock salt, chilli powder, coriander leaves, green chillies.
2.
Knead the dough as for a normal parantha.
3.
Make flat rounds and pinch the edges to about 1/3 way towards the centre, to form a sort of a cup.
4.
Take some filling and place in the centre of the 'cup'.
5.
Wet the edges and bring together to enclose the filling. Pinch to seal.
6.
Roll out as thinly as you can without tearing.
7.
Fry the paranthas till crisp and dark on both sides.
Recipe Notes
Knead a very smooth dough to roll them out easily. You can use milk instead of water to knead the dough to have a softer outer layer.
Add mint leaves or crushed ginger-garlic in stuffing for spicier taste.
Loved our Aloo Paratha recipe? You should definitely try the best of Paratha recipes we have.
You can change the stuffing of the Paratha according to your choice. Have a look at some healthier stuffing options here.