Story Progress
Back to home
Amaranth Chocolate Ravioli with Kahlua Chocolate Sauce Recipe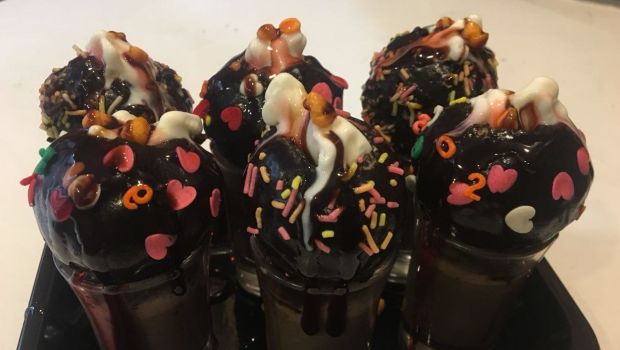 How to make Amaranth Chocolate Ravioli with Kahlua Chocolate Sauce
This one is for the chocoholics. Bringing a spin to the Italian pasta - Ravioli, it is made with chocolate and amaranth flour. Fill with a nutty cream cheese filling, it is served it a boozy chocolate sauce.
Total Cook Time

1 hr 20 mins

Ingredients of Amaranth Chocolate Ravioli with Kahlua Chocolate Sauce
For the Ravioli
3/4 cup amaranth flour
3/4 cup whole wheat flour
1/4 cup cocoa powder
2 eggs
1/2 tsp salt
For the Filling
1 cup cream cheese
1/4 cup nuts (almonds or hazelnuts), chopped
1/4 cup milk
For the Sauce
125 gms dark compound chocolate
200 ml cream
2 tbsp sugar
1/2 cup kahlua
1/4 cup milk
How to Make Amaranth Chocolate Ravioli with Kahlua Chocolate Sauce
Hide

Show

Media
2.
In a mixing bowl, sift together the flours, cocoa powder and salt. Make a well in the centre and keep it aside.
3.
In another bowl, whisk the eggs until light and fluffy. Slowly, add it into the flour mixture while working all the ingredients to form a dough. If the dough is too sticky, add some more whole wheat flour.
4.
Knead well. It will take some effort. If the dough is still sticky, oil your hands a little to help you with the kneading. Find a large work surface to knead.
5.
Once you get a medium-soft dough, wrap it in cling-film and keep in the refrigerator for 30 minutes.
6.
Divide the dough into four balls and roll it using a pasta machine, from the thick to the thinnest setting. If you are using your hands, knead it a little and roll it using a rolling pin. In both cases, you will need some extra flour to make it easier to roll the dough. If you are using a rolling pin, try to make it as thin as possible.
7.
Keep the sheets covered to ensure that they don't dry out.
For the Filling
1.
Place the cream cheese in the blender and blend for 1-2 minutes. It should be nice and smooth and not too runny. If it is too thick, add a little milk to thin it down.
2.
Add the chopped nuts, mix well and keep it aside.
For the Sauce
1.
Chop the chocolate into smaller pieces and melt it lightly in a double boiler.
2.
In another pan, heat the cream and milk. Add the sugar and stir until it dissolves. Remove from the flame and pour it into the melted chocolate.
3.
Mix well using a wooden spatula. Remember that the sauce will thicken up later, so make it a little runny.
4.
Add Kahlua and mix well. If it is still thick, add some more milk or cream.
To Assemble
1.
Cut the ravioli sheets into small rectangles using a pasta cutter. Place a good quantity of the filling at the centre of the sheet, leaving half an inch gap at the sides. Brush the sides with a little water, fold over the sheet and seal the edges. You can use a cutter or a fork for this.
2.
Take a large saucepan filled with water, add 2 Tbsp sugar and bring it to a boil.
3.
Add the raviolis in small batches. Make sure you don't overcrowd the pan. Let it cook and then it will automatically float at the surface after 2-3 minutes.
4.
Remove from the pan and repeat the process with the other batches. Keep covered.
To Serve
1.
Place the ravioli in a serving dish and pour the sauce on top. You can garnish with chocolate shavings or fresh berries if you like.