Story Progress
Back to home
Baigun Bhajja Recipe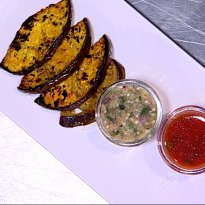 About Baigun Bhajja: Pan seared brinjal, served with tomato chutney and raw brinjal melange.

Ingredients of Baigun Bhajja
3 big eggplants
1 Tbsp ginger-garlic paste
2 tsp red chilli powder
1 tsp turmeric powder
1 tsp coriander powder
Salt to taste
Juice of 2 lemons
2 onions, chopped
4 green chillies, chopped
1 ginger, chopped
4 Tbsp fresh coriander, chopped
1 cup mustard oil
1 tsp garam masala powder
For the tomato chutney:
3 tomatoes
1 tsp ginger, chopped
1 tsp green chilli, chopped
2 tsp coriander, chopped
Salt to taste
1/2 tsp sugar
Juice of 1 lemon
2 tsp mustard oil
1.
Take two eggplants and clean them well. Slice them in half inch thickness and marinate with ginger garlic paste, red chilli powder, turmeric powder, coriander powder, garam masala powder, salt and lemon juice (1 lemon) and keep it aside.
2.
Roast the remaining eggplant on cooking range till it is cooked properly.
3.
Once cooked, peel the skin and roughly chop the eggplant. Mix in chopped onion, green chilli, ginger, fresh coriander, salt and lemon juice (1 lemon)
4.
In a pan, heat some mustard oil on a medium flame and pan fry the marinated eggplant slices till they are cooked.
5.
Serve it hot with the roasted eggplant.
For the tomato chutney:
1.
Boil whole tomato and puree it nicely in mixie.
2.
Take out in a bowl and add chopped ginger, green chilli, coriander, salt, sugar, lemon juice (1 lemon) and mustard oil.
3.
Mix well and serve it with the bhajja.