Story Progress
Back to home
Baked Fish with White Sauce Recipe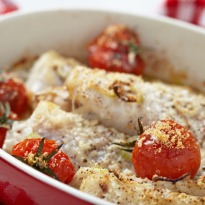 How to make Baked Fish with White Sauce
Tender fish fillets smeared in a simple marinade of lime juice and salt, seared golden and bathed in a creamy sauce. Baked this lovely to a lip-smacking perfection.
Total Cook Time

1 hr 10 mins

Ingredients of Baked Fish with White Sauce
Oven Temp: 350F-180C
8 fish fillets- marinated
1/4 cup finely chopped onions
1/4 cup de-seeded and finely chopped tomatoes
2 cups milk
2 Tbsp refined flour
1 Tbsp butter
1 tsp salt
1 tsp powdered black pepper
1/4 cup grated cheese
For the marinade:
Lemon juice and salt
1.
Marinate fish fillets and keep for about 20 minutes, wash and keep to drain.
2.
Heat oil in a pan and add fish.
3.
Cook over high heat till the fish turns brown on both sides, keep aside.
4.
In the same pan, saute onions and tomatoes over high heat.
For the sauce:
1.
Melt butter and add refined flour to it.
2.
Saute on low heat till it turns brown.
3.
Put out the flame and add milk while stirring.
4.
Put the pan over the stove and let it come to a boil, keep stirring to avoid scorching.
5.
Lower the heat and simmer for about a couple of minutes.
7.
Transfer fish on to an oven-proof serving dish, sprinkle onions and tomatoes over the fish.
8.
Pour over some white sauce.
9.
Add a little cheese and bake in a pre-heated oven for about half an hour or till the cheese melts.