Story Progress
Back to home
Batata Pattice Recipe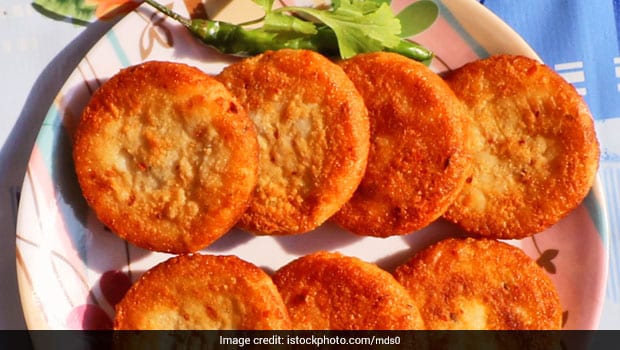 How to make Batata Pattice
Bread and potatoes mashed together make for one delightful recipe. A popular snack from the streets of Mumbai.

Ingredients of Batata Pattice
1 Cup Shelled peas (mashed), boiled
1 tbsp Oil
1 tsp Mustard seeds
1/8 Asafoetida
1 1/2 tsp Salt
1 tsp Coriander seeds, powdered
1 tbsp Lemon juice
1 tsp Sugar
1 tbsp Coriander leaves, chopped
1 tsp Green chillies, finely chopped
500 gram Potatoes (boiled in their jackets), peeled
1 slice White bread (crusts removed)
1 tsp Salt
1/4 tsp Black pepper, powdered
1/4 cup Cream of wheat (soojee, to coat)
For frying Oil
1.
Heat oil and add mustard seeds and asafoetida. Add the peas and mix well.
2.
Add salt, powdered coriander and green chillies. Remove from heat and add the lemon juice, and mix well.
3.
Grate potatoes, and bread, add salt and pepper and mash well till smooth, like a pliable dough.
4.
Shape into round walnut sized balls, press to flatten a little, and pinch and edge all around. Wet the pressed edges, place a heap of peas mixture in the center.
5.
Bring the wet edges together, seal and smoothen between the palms. Roll lightly in the cream of wheat. When lightly coated, pan fry to a golden brown.