Story Progress
Back to home
BBQ Malai Boti Recipe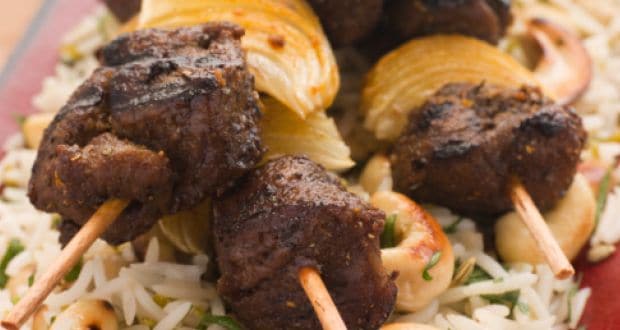 How to make BBQ Malai Boti
Mutton pieces marinated in a mixture of raw papaya, curd, cream and spices, after which they are cooked on a coal flame.
Total Cook Time

2 hrs 20 mins

Ingredients of BBQ Malai Boti
For Marination:
1/2 cup Raw Mango
2-4 Green Chillies
1 Ginger
6-7 Garlic
1 tsp Lemon Juice
1/2 kg Mutton
For Second Marination:
1/2 cup Curd
1/4 cup Cream
1/2 tsp Small Cardamom Powder
1 tsp Black Pepper
1/2 tsp White Chilli Powder
1/2 tsp Jeera Powder
1/2 tsp Coriander Powder
to taste Salt
1.
For Marination: Grind raw papaya, green chili, ginger, garlic buds and lemon juice in a blender.
2.
Take mutton and add this mixture to it, mix it well and let it marinate for 30 minutes.
3.
For Second Marination: Now add curd, cream, cardamom powder, black pepper powder, white pepper, cumin powder, coriander powder and salt as per taste.
4.
Mix all the ingredients well with the mutton and keep it to marinate for 2 to 3 hours.
5.
After marinating, place it in a skewer and grill it well on coal flame.
6.
After roasting well, serve with chutney.