Story Progress
Back to home
BBQ Rice Recipe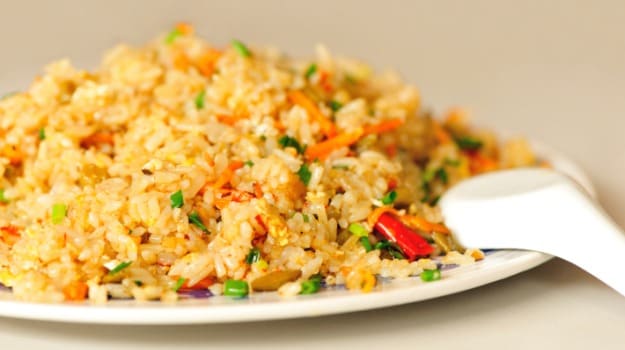 How To Make BBQ Rice
This one-pot rice dish is filled with veggies and is an excellent option for vegetarians. You can use leftover rice to make BBQ rice.

Ingredients of BBQ Rice
Rice and vegetables:
250 gram Long-grain white rice
2 tbsp Olive Oil
1 medium Onion
2 Garlic Cloves
1 Bell Peppers
1 piece of leek
2 small Tomatoes
to taste Fine sea salt and black pepper
BBQ sauce:
3 tbsp Tomato paste not tomato puree or sauce
2 tbsp Red Wine Vinegar
4 tbsp Worcestershire sauce or vegan alternative
2 tbsp Runny honey
1 tsp Medium mustard
1/2 tsp Hot smoked paprika
1/2 tsp Red chili flakes
1/2 tsp Turmeric
1 tsp Ground coriander
1 tsp Ground cumin
Fine sea salt and black pepper
¼ – ½ cup water as needed
Garnish all optional:
1 small chopped tomato
2 tsp Greens from the leek or green onion
Chives or parsley
1.
Boil the rice, make sure it is not sticky or mushy. Keep this aside.
2.
In the meantime, prepare the rest of the dish. Chop the onions. Heat the oil in a large saucepan. Cook the onion until translucent, about 3-4 minutes.
3.
Finely chop the garlic and the leeks, add to the pot and cook for another 2-3 minutes, stirring often.
4.
Chop the peppers and the tomatoes. Add them to the pan and cook for another 2-3 minutes.
5.
In a small bowl mix together all the ingredients for the BBQ sauce except the water. Add to the pan, stir in ¼ cup water, cover the pan and simmer for about 5 minutes, stirring a few times in between.
6.
Check the pan. If the sauce seems dry, add the remaining ¼ cup water and stir well. Continue cooking for another 5 minutes or until the vegetables are soft and the sauce has thickened nicely without becoming dry.
7.
Add the drained rice, stir well. Adjust the taste with salt, pepper, and, if necessary, with a pinch of sugar and/or more vinegar.
8.
Garnish with chopped tomatoes, green onions, parsley, or chives.