Story Progress
Back to home
Beer Chicken Tartar Recipe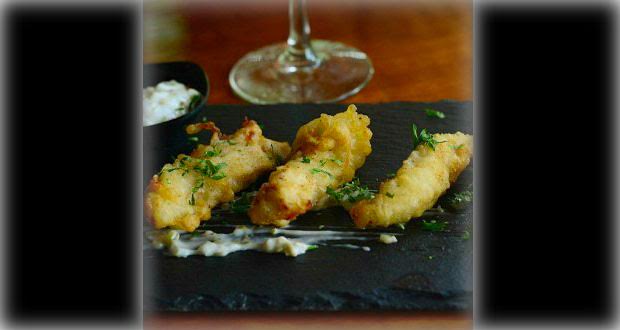 Making the perfect kind of batter can be a real challenge, but this recipe will put all your batter woes to rest. It's got a nice and crisp outside and juicy, tender and moist chicken on the inside.

Ingredients of Beer Chicken Tartar
2 pieces of chicken supreme
4 Tbsp buttermilk
1 tsp salt
Tartar Sauce:
4 Tbsp mayonnaise
1 tsp gherkins
1 tsp green olives
1 tsp shallots
1/2 tsp parsley, to garnish
Batter:
3 Tbsp corn flour
1 Tbsp refined flour
1/2 tsp salt
1/2 tsp Baking Powder
5 Tbsp Beer
1.
1. Clean the chicken thoroughly and then dip into home-made buttermilk and salt for at least an hour.
2.
3. Keep it in the refrigerator at least for one hour at 4 degree Celsius.
3.
4. In the mean time, prepare the tartar sauce. Mix all the ingredients: mayonnaise, gherkin, green olives, shallot, salt and pepper.
4.
5. Now, mix all the ingredients for the batter. Be sure it isn't too runny or it won't stick to the chicken properly.
5.
5. Pull out marinated chicken supreme from refrigerator, dip it into the batter dunk it into a hot fryer.
6.
6. Fry it till it turns golden in color & then take it out from fryer.
7.
7. Put it on paper towel to remove extra fat.
8.
8. Serve it hot with tartar sauce.
9.
Tips: You can use water in place of beer.