Story Progress
Back to home
Beet and Arbi Falafal with Homemade Pickles Recipe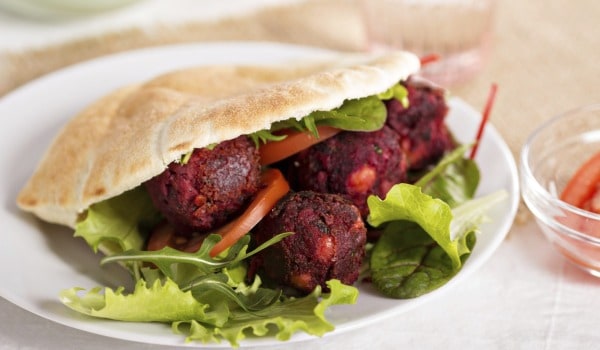 How to make Beet and Arbi Falafal with Homemade Pickles
About Beet and Arbi Falafal with Homemade Pickles Recipe: Enjoy one the most popular Lebanese wraps, Falafel with Pita with this easy recipe. Falafel made with distinctive flavors of beetroot and arbi, served with some home-made pita and pickles.
Total Cook Time

1 hr 25 mins

Ingredients of Beet and Arbi Falafal with Homemade Pickles
For Pita Bread:
125 gms flour
2 gms salt
2 gms yeast
5 gms sugar
5 ml oil
20 ml water
1 tsp za'atar spice
For the Beetroot and Arbi Falafel:
30 gms beetroot, roasted
70 gms chick pea (soaked and cooked)
30 gms arbi (cooked)
1 green chilli, finely chopped
1/2 tsp cumin powder
1/2 tsp red chilli powder
1/2 tsp coriander powder
1/2 tsp baking soda
1 tbsp gram flour
to taste Salt and pepper
For Homemade Pickles:
60 gms radish, sliced
60 gms cucumbers, sliced
60 gms carrots, sliced
60 gms green papaya
Pickling Juice:
100 ml sugar
100 ml white wine vinegar
1 tbsp salt
1 tbsp coriander seeds
2 Bay leaves
2 Jalapenos (whole)
1/2 cup water from jalapenos
Prepare the Falafel:
1.
To bake the beetroot season a whole beetroot with salt, pepper and a drizzle of olive oil.
2.
Wrap In aluminum foil and bake in a pre-heated oven for 30-35 minutes.
3.
Blend all the ingredients in to a stiff dough, shape into small balls and deep fry.
5.
Mix all the ingredients to make a semi soft dough, let it rest for 45 minutes or till it doubles in size.
6.
Once its size has doubled knead it till soft. Divide into half and role into a flat disk or any shape you like.
7.
Put it on the grill till golden brown, brush with olive oil and sprinkle with zataar spice or bake in the pre-heated oven at 200 degrees Celsius for 7-10 minutes.
Prepare Homemade Pickles:
1.
In a sauce pan add all the ingredients of the pickling juice and bring it to a boil.
2.
Next, add the vegetables and mix well.
3.
Take the pan off the fire and let the vegetables soak in the hot juices.
4.
Serve the falafel and pita with some plum and green apple yogurt.