Story Progress
Back to home
Beetroot Hummus Recipe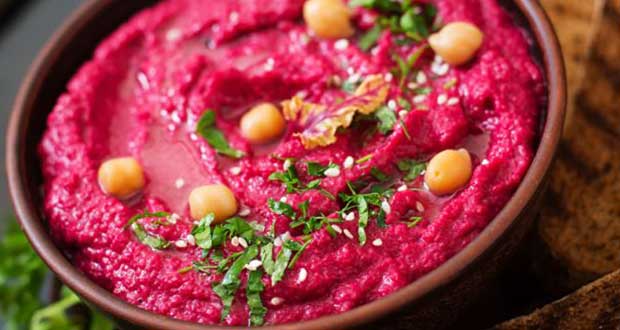 How to make Beetroot Hummus
About Beetroot Hummus Recipe: What makes beetroot hummus an absolute favourite in parties is the bright and peppy pink colour, besides the lip-smacking flavour of course. Top it with fresh herbs for some zing.

Ingredients of Beetroot Hummus
for garnishing coriander leaves
2 cups of chickpeas, boiled
1 beetroot, peeled
4-5 garlic cloves
¼ cup of olive oil, plus extra for topping
1 tsp of sesame seeds
1 Tbsp of curd
1 tsp of cumin powder
2 Tbsp of lemon juice
to taste salt
1.
Oil and roast the beetroot on the stove or in an oven for 10 minutes. Let it cool. Then chop it into smaller pieces.
2.
In a pan, roast the sesame seeds until aromatic. Allow to cool and then ground into a powder.
3.
In a food processer or blender, mix chickpeas and garlic, and pulse until smooth. You can add a little water, if you find the mixture a little dry.
4.
Add the beetroot, sesame powder, curd, olive oil, cumin powder and salt, and blend again until smooth.
5.
Transfer to a bowl, and add the lemon juice. Mix well and check seasoning. Finish with a drizzling of olive oil and fresh coriander leaves on top. Serve with pita breads.