Story Progress
Back to home
Beguni Recipe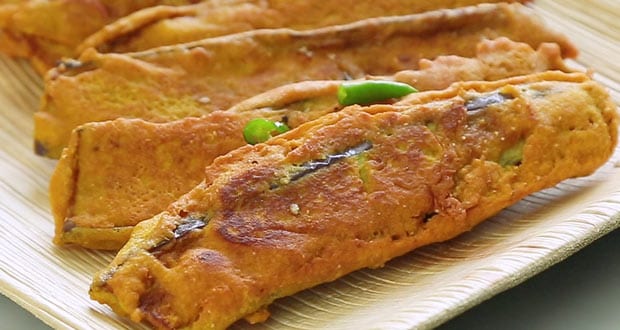 How To Make Beguni
NDTV Food
Quick and easy to prepare, this Bengali dish is very healthy and delicious. It is a perfect way of eating Brinjal for those who don't like it. It is a popular street food and a perfect dish to serve for an evening snack.

Ingredients of Beguni
For Besan Batter:
1 cup Besan
A pinch of Turmeric Powder
1/2 tsp Salt
1 tsp Ginger paste
2 nos Green Chillies
1 cup Water
1 tsp Khus Khus
5- 6 Brinjal, sliced
For Frying:
1 cup Mustard Oil
1.
In a bowl, whisk together besan, turmeric powder and salt to combine. 2.
Add ginger paste and green chillies. Mix well. 3.
Pour required quantity of water and whisk the batter until smooth and thick. 4.
Add more water if required and prepare a spoon coating batter. 5.
Add khus khus and whisk until thoroughly combined. 6.
Now cut the Brinjal plant in long slices and dip into the besan batter. 7.
Heat mustard oil in a large frying pan. 8.
Place the besan coated brinjal slices in the pan for deep frying. 9.
Cook well until golden brown on both sides. Keep the flame on medium heat for thorough cooking. Make sure you don't overcook. 10.
Hot and crispy Begunis are ready to serve for a quick snack. Watch the step by step recipe of Beguni here: