Story Progress
Back to home
Bharwan Aloo Recipe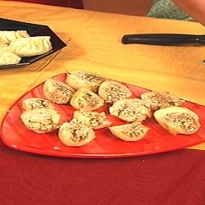 Bharwan aloo are north Indian starters in which potato cases are stuffed with paneer, spices and baked golden.

Ingredients of Bharwan Aloo
6-7 potatoes, medium size
1/2 cup paneer, grated
1 tspcoriander powder
1/2 tsp garam masala
1/4 tsp red chilli powder
1/4 tsp black pepper powder
1 tsp amchoor (raw mango powder)
4 tsp butter
salt, to taste
2-3 green chillies, finely chopped
1 Tbsp coriander, finely chopped
Oil
To Garnish Bharwan Aloo:
Chaat masala
Coriander leaves
1.
Pre-heat the oven to 220 C.
2.
Peel potatoes, slice off a little of the top and scoop out the inside leaving a shell.
3.
Boil the scooped out potato and potato shells till the shells are cooked but firm.
4.
Glaze the potato shells with some oil, keep aside.
5.
In a bowl, put the paneer, scooped out potato, coriander powder, garam masala, amchoor, red chilli powder, green chillies, coriander leaves and butter.
6.
Mix and mash it all together, add the salt and pepper and mix again.
7.
Stuff the potato shells with the mixture.
8.
Bake in the oven for 15 minutes or in an OTG for 10 minutes.
9.
Cut into halves lengthwise, garnish.
10.
Your bharwan aloo are ready to serve.