Story Progress
Back to home
Bolinhas (Goan Cookies) Recipe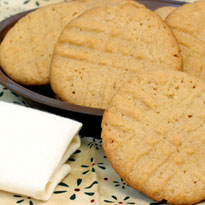 How to make Bolinhas (Goan Cookies)
Cookies with the flow of semolina, crunch of cashews and delicious flavor of coconut.

Ingredients of Bolinhas (Goan Cookies)
Oven Temp: 375 F-180 C
4 Egg Yolks
1 Cup Castor Sugar
1.5 Cups Semolina (soojee)
1.5 Cups Cashew nuts (ground)
1 tsp Cardamom Powder
2 Cups Coconut, grated
A greased baking tray
1.
Beat egg yolks and sugar to a light and creamy consistency.
2.
Mix in the rest of the ingredients except the coconut and keep covered for 8 hours.
4.
Shape into small balls (about 12), flatten slightly and place on the baking tray.
5.
Bake in a pre-heated oven till brown.