Story Progress
Back to home
Buckwheat Blinis Sandwich With Beetroot And Feta Recipe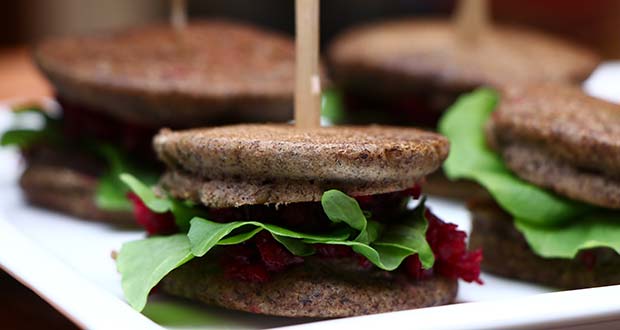 How to make Buckwheat Blinis Sandwich with Beetroot and Feta
Traditional Russian blinis are made with a yeast-raised buckwheat flour batter that gives them a nutty flavor. Topped with beetroot mixture and rocket leaf these Russian pancakes are an impressive, healthy appetizer for parties.

Ingredients of Buckwheat Blinis Sandwich With Beetroot And Feta
150 Gram Buckwheat Flour
1/2 tsp Baking Powder
2 gram Salt
1 tsp Yogurt
1 1/2 tsp Vinegar
150 ml Water
10 gram Jalapenos
10 ml Clarified Butter
160 gram Beetroot, chopped
35 gram Castor Sugar
75 ml Vinegar
1/2 tsp Cumin Powder
1/2 tsp Coriander Powder
20 gram Walnut
80 gram Feta
How to Make Buckwheat Blinis Sandwich With Beetroot And Feta
Hide

Show

Media
1.
Sift buckwheat flour in a medium size bowl.
2.
Add baking powder, salt, yogurt, vinegar and mix well. Slowly add water.
3.
Add chopped jalapenos to the mixture that should have the consistency of a pancake batter. Set aside for 15 minutes.
4.
Melt a little butter in a non-stick pan over moderate heat.
5.
Spoon tablespoon-size mounds of batter into the hot skillet and cook until bubbles form on the surface and the blinis are browned on the bottom.
6.
Flip the blinis and cook for 15 seconds longer.
7.
Peel and finally chop the beetroot.
8.
Melt sugar over low heat. Add chopped beetroot, water, vinegar, cumin powder, coriander powder to the pan and cook for 10-15 mins, stirring frequently.
9.
Remove from the heat, add chopped walnut to the mixture and allow it to cool.
10.
Place one table spoon of beetroot mixture on each blinis and top with feta cheese.
11.
Garnish with rocket leaf and serve.