Story Progress
Back to home
Burmese Dessert Recipe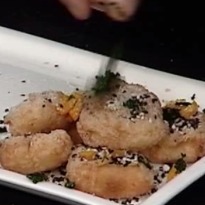 How to make Burmese Dessert
Quick desserts aren't just about fresh fruit and ice creams. Make this quick 15-minute Burmese dessert with fried custard-like dollops sprinkled with sesame seeds and icing sugar.

Ingredients of Burmese Dessert
100 gm black and white sesame seeds, mixed
3 eggs, beaten
50 gm powdered sugar
1 cup water
1 cup flour
2 Tbsp sugar
1 tsp vanilla essence
Flour, to coat
Oil to deep fry
Cinnamon powder, to sprinkle on top
2-3 Tbsp gooseberries, chopped, to garnish
2-3 basil leaves, chopped, to garnish
1.
In a pan, dry roast sesame seeds. Once roasted mix it with the powdered sugar. Keep aside.
2.
Beat the eggs together. Now add 2 tbsp sugar in this. Keep aside.
3.
In another pan, add the flour and water. Mix well with a whisk and add some vanilla essence.
4.
Slowly add the egg-sugar mixture to the flour mixture and mix till smooth and thick. Pour this mixture into ramekins and put it in the freezer for a few minutes.
5.
Take it out after a few minutes and cut into equal pieces. Coat with some flour and deep fry. Once golden, drain on an absorbent paper.
Plating up:
1.
Place the deep fried treats on a plate.
2.
Sprikle some cinnamon powder and the sesame seed-sugar mixture on top.
3.
Garnish with some chopped gooseberries and basil leaves.