Story Progress
Back to home
Butter Pepper Garlic Crab Recipe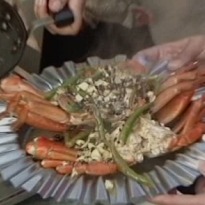 How to make Butter Pepper Garlic Crab
A quick and easy crab recipe oozing with butter and dominant flavors of garlic, chillies and black pepper.

Ingredients of Butter Pepper Garlic Crab
2 crabs, washed and cleaned
2 Tbsp olive oil
3/4 + 1/4 cup butter
4 + 1 Tbsp freshly ground pepper
20-25 cloves garlic, mildly crushed
7-8 green chillies, slit lengthwise
4 Tbsp lemon juice
Salt, to taste and to be added in the end if required
Coriander leaves, to garnish (Optional)
1.
In a kadhai, add olive oil. Once heated add 3/4 cup butter.
2.
Once the butter melts add 4 Tbsp black pepper, garlic cloves and green chillies.
3.
Once it starts to splutter add the washed crabs. Cook for a minute and add lemon juice. Cover and cook for 2 more minutes.
4.
Add the rest of the butter and pepper and keep cooking the crabs covered till done. The crab meat should cook in about 10-15 minutes.
5.
Enjoy this dish with appams or ready made kulchas.