Story Progress
Back to home
Garlic Pepper Crabs Recipe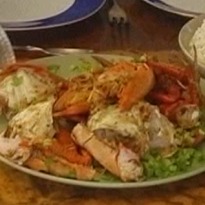 How to make Garlic Pepper Crabs
A very easy recipe that is cooked within a few minutes. Few ingredients and one tasty outcome. This recipe is a must try for all the crab meat lovers.

Ingredients of Garlic Pepper Crabs
2 large crabs or 6 small crabs (with shells)
2 pods of garlic - roughly crushed
1 Tbsp pepper - roughly crushed
1/2 cup butter
3 tsp olive oil
Salt to taste
1.
Clean the crab and very roughly crack the shells in a few places.
2.
Boil some salted water in a large colander. Put the crabs in, blanch for 2-3 minutes and drain.
3.
Semi-heat the butter and oil in a wok or kadhai.
4.
Add the crushed garlic and fry till they turn light golden-brown in colour.
5.
Add the crabs and toss around for two minutes.
6.
Sprinkle the salt and pepper and mix again. Serve hot.