Story Progress
Back to home
Buttermilk Scones Recipe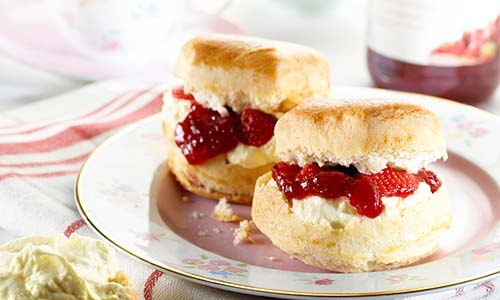 How to make Buttermilk Scones
About Buttermilk Scones Recipe: Crisp outside, buttery and fluffy on the inside. These buttermilk scones are the perfect tea time option. Served with a delectable strawberry jam and whipped cream.

Ingredients of Buttermilk Scones
500 gms flour
2 tsp bicarbonate soda
2 tsp cream of tartar
75 gms butter
2 tsp caster sugar
300 ml buttermilk
1 cookie cutter
1 Egg (beaten)
Cream
1.
In a big bowl add flour, bicarbonate soda, cream of tartar, butter along with caster sugar and mix.
2.
While mixing keep adding some buttermilk, bring it all together, forming dough and take it out on a board.
3.
Sprinkle some flour on the board and pat the dough to the thickness of your choice.
4.
Cut small pieces of the dough with the cookie cutter and place them on a baking tray.
5.
With the help of a brush touch up the pieces with the beaten egg.
6.
Bake in an oven set at 220degree for about 10-12 minutes.
7.
To Serve: Server the scones with some whipped cream and strawberry jam on the side.