Story Progress
Back to home
Caribbean Rice Salad Recipe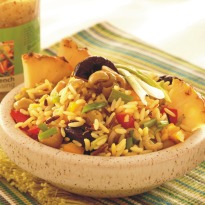 A fantastic salad to serve at a lunch buffet and with Indian food.

Ingredients of Caribbean Rice Salad
1 cup California pitted prunes, roughly chopped
4 cups boiled rice (wild, brown or basmati or a mix)
1/2 cup diced fresh pineapple (1
1/2 cup cashew nuts
1/2 cup finely chopped spring onions with some of the tender green
1 cup diced red bell peppers
1/2 cup sliced green olives
Dressing:
200 ml French dressing
1 1/2 tsp curry powder
1/2 tsp salt
1.
Place all ingredients for salad in a bowl and toss gently.
2.
Whisk French dressing with curry powder and salt, and pour over salad. Toss until well blended.
3.
Taste and add more salt if required.
4.
Serve in a pineapple shell or on a bed of lettuce.
5.
Tip: You can use a mix of different rice as long as each one is cooked separately.