Story Progress
Back to home
Carrot and Tomato Soup Recipe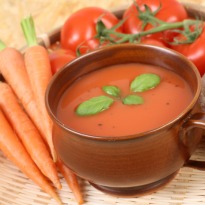 How to make Carrot and Tomato Soup
This recipe allows you to enjoy the goodness of carrots and tomatoes in one soup. The flavour of this blend is enhanced by the correct amount seasoning and the garnish of cream and coriander.

Ingredients of Carrot and Tomato Soup
1/2 kg tomatoes
200 g carrot
2 tsp salt, or to taste
1/4 tsp powdered black pepper
1 tsp sugar (optional)
Grated carrot for garnishing
Cream for garnishing
1.
Chop the tomatoes and carrots. Put them to boil, partially covered, with 1 cup water and the salt.
2.
When it comes to a boil, lower the heat and simmer till the vegetables are completely cooked through.
3.
Cool and pass through a soup strainer or blend in a blender and then strain.
4.
Add water to make up to 4 1/2 cups of liquid. Put on the fire and bring to a boil and simmer.
5.
Add the sugar and the pepper. Simmer for about 10 minutes.
6.
Serve garnished with the cream and carrots.