Story Progress
Back to home
Champinones al ajillo (Garlic mushrooms) Recipe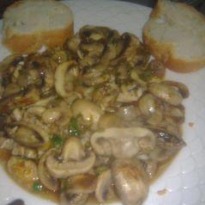 A popular Spanish Tapas dish, these mushrooms are perfect with a chilled beer.

Ingredients of Champinones al ajillo (Garlic mushrooms)
500 grams white mushrooms, washed and chopped
1 pod garlic, crushed
3-4 birds eye dried red chillies, crushed
Parsley
Lemon juice
Salt
A pinch of paprika powder
1.
Heat about 10 tablespoons of Spanish olive oil in a pan. When heated, add the crushed birds eye red chillies and garlic.
2.
Saute till garlic begins to change color, (please do not burn garlic) and then add your mushrooms, stir fry on high heat. When mushrooms have reduced in size means they are done.
3.
Turn off the fire. Add salt, parsley, lemon juice and paprika powder.
4.
Serve with french baguette. You have to dip the bread in the garlic parsley infused oil.