Story Progress
Back to home
Chholia Paneer Rasedaar Recipe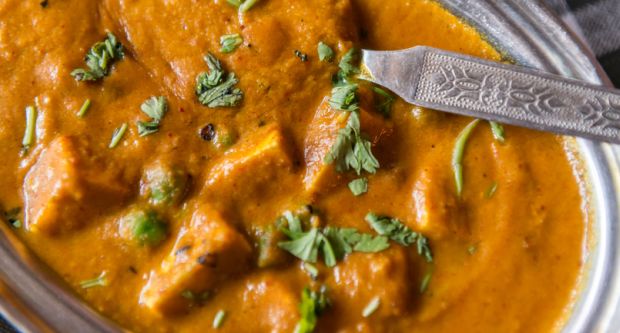 Chholia Paneer Rasedaar: Paneer pieces blended with an aromatic mix of spices, cholia, khoya, turmeric and coriander.

Ingredients of Chholia Paneer Rasedaar
2 cups paneer-cubed, fried till light brown
2 cups chholia
3-4 green chillies-slit
For the gravy:
1/4 cup ghee
2 tsp cumin seeds
1/4 tsp asafoetida
2 bay leaves
1 Tbsp ginger-finely chopped
1/4 cup tomato puree
1/4 cup khoya-grated
1/2 tsp turmeric powder
1 Tbsp salt
1/2 tsp garam masala
1/2 tsp chilli powder
1 Tbsp coriander powder
1.
Heat the ghee, add cumin, asafoetida and bay leaves.
2.
When the seeds begin to splutter, add ginger and saute till slightly brown.
3.
Add tomato puree and stir-fry till the oil separates.
4.
Add khoya, turmeric, salt, garam masala, chilli powder and coriander.
5.
Stir-fry till the oil separates.
6.
Add chholia, paneer and green chillies.
7.
Saute over high flame till the vegetables look glossy.
8.
Add 2 cups of water, bring to a boil and simmer.
9.
Cook covered for about 10 minutes.
10.
Serve hot, garnished with coriander leaves.