Story Progress
Back to home
Chicken Enchiladas Recipe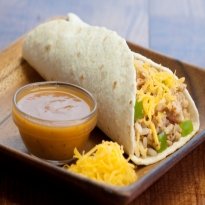 Tex Mex Chicken Enchiladas Recipe. Rolled tortillas stuffed with creamy, cheesy chicken filling, drizzled with a tangy tomato sauce and baked golden.

Ingredients of Chicken Enchiladas
For Chicken Enchiladas:
8 tortillas (flour or corn)
Melted butter
2 cups cooked chicken - diced
3/4 cup sliced ripe olives
2 Tbsp chopped onion
1/2 cup shredded cheddar cheese
For the Sauce:
1 clove garlic - crushed
1 Tbsp olive oil
2 packets tomato puree
Salt - to taste
1 1/2 tsp chilli powder
Topping:
2 Tbsp chopped onion
1/4 cup shredded cheddar cheese
For the Chicken Enchiladas:
1.
Brush the tortillas with butter on both sides.
2.
In center of each tortilla, pile about 1/4 cup of the diced chicken, one or two tbsp of the ripe olives, a tsp of chopped onion and a sprinkling of shredded cheese.
3.
Roll up and place filled tortillas side by side in a buttered baking dish, 11x7-inch or 9-inch square.
For the Sauce:
1.
Heat oil in a saucepan, saute the garlic in it.
2.
Add tomato puree, water, salt and chilli powder.
3.
Pour the sauce over the rolls and sprinkle 2 Tbsp of chopped onion and 1/4 cup shredded cheese.
4.
Bake at 350 degrees for about 15 to 20 minutes. Serve hot.