Story Progress
Back to home
Chicken Piccata With Bread Salad Recipe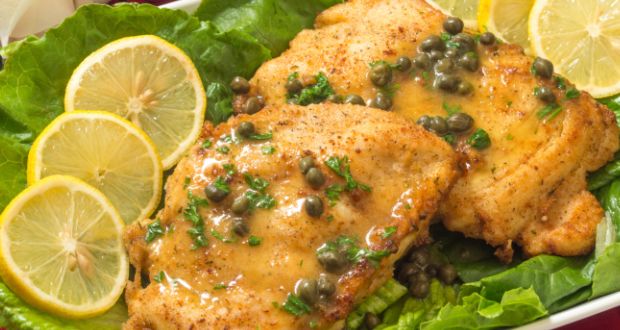 How to make Chicken Piccata With Bread Salad
About Chicken Piccata With Bread Salad Recipe : Batter fried chicken breast with a salad of baked bread, tomatoes, olives and peppers. A great snacking option to indulge in!

Ingredients of Chicken Piccata With Bread Salad
For the Chicken:
2 Chicken breast (batted thinly)
1/3 Cup Flour
1 Egg
1/2 Cup Parmesan cheese
1 tsp Parsley
1 tsp Chives
1 Tbsp Butter
1 tsp Olive oil
To taste Salt & pepper
For Bread Salad:
1 Small Ciabata bread loaf
2 Tomatoes
8 Olives
1/2 Bell peppers
3 Basil leaves
1/2 Cup Olive oil
2 tsp Red wine vinegar
1/2 Cup Tomato juice
1/3 Cup Sun dried tomatoes
Prepare the Chicken:
1.
Season the chicken breasts with salt and pepper. Make a batter with the Parmesan cheese, parsley, egg, chives.
2.
Beat well. Dip the seasoned chicken into the flour and then into the batter.
3.
Shallow fry in a mix of olive oil and butter until golden brown.
Prepare the Salad:
1.
Cut the bread into chunks. Sprinkle some olive oil, and bake for 6 minutes.
2.
Set aside to cool slightly.
3.
In a bowl mix the tomatoes, olives, yellow bell peppers and the sun dried tomatoes. Season to taste with salt and cracked black pepper.
4.
Whisk together the tomato juice, red wine vinegar, olive oil, and the basil. Pour over the bread. Add it to the tomato and olive mixture.