Story Progress
Back to home
Chicken Roulade Recipe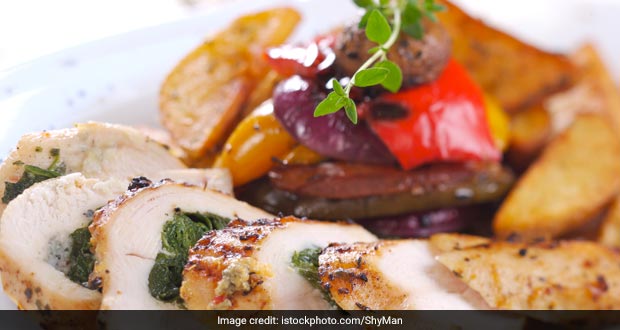 How to make Chicken Roulade
Chop,wrap,marinade, mix & slice over the chicken over your pallet and there you go with the amazing chicken roulade from the Bikers' cafe.

Ingredients of Chicken Roulade
2 Pieces Chicken breasts
1 tbsp Olives
10 gram Jalapenos
3 tbsp Bell peppers(all 3)
1 tsp Thyme dried
10 ml White wine
to taste Salt
Black pepper (crushed to taste)
1/2 Egg
1 tbsp Olive oil
1 tbsp Mozerella cheese
1 tbsp Processed cheese
1.
Take 1 chicken breast & mince it.
2.
Add chopped olives, bell peppers, jalapenos, thyme, wine, both the cheese,salt & pepper.
3.
Mix it well & keep aside.
4.
Take another chicken breast place it on a clin wrap over the board and add salt, pepper & olive oil and beat it with hammer.
5.
Marinade the beaten chicken breast with the egg.
6.
Add the mixture & then roll the beaten breast alongwith the clin wrap. Take another fresh clin wrap & re wrap it.
7.
Now wrap tightly in aluminium foil & put in boiling water for 40 minutes.
8.
Take it out & let it cool.
9.
Slice it ,store in box,label & freeze it.