Story Progress
Back to home
Chicken Satay Recipe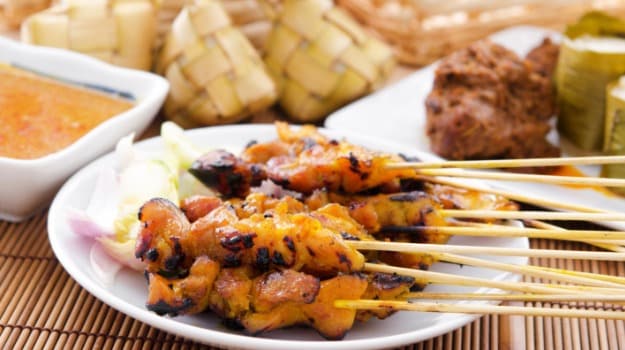 How to make Chicken Satay
About Chicken Satay Recipe: A classic and downright delicious Thai appetizer, served with a chunky peanut sauce.

Ingredients of Chicken Satay
250 gm chicken supremes
1 tsp ginger
1 tsp garlic
A big pinch of turmeric
1 tsp soy sauce
1 tsp red chilli paste
1 tsp olive oil
1 Lemon (juice)
For the peanut sauce:
1 cup peanuts (crushed coarsely)
1 medium onion
1 tsp ginger
1 stalk lemon grass (chopped)
2 lime leaves
2 tsp oil
1 tsp red chilli paste
2 tsp jaggery
1 cup coconut milk
1/2 cup tamarind
Salt and pepper to taste
1.
Marinate the chicken with all the ingredients. Thread them on to skewers.
2.
And cook evenly on all sides.
For the peanut sauce:
1.
In a pot, sweat off the onions, ginger, lemon grass, lime leaves.
2.
Add in the crushed peanuts and the red chilli paste. Mix in the jaggery/palm sugar.
3.
Finally add the coconut milk.
4.
Simmer and blend. Season to taste.